Three NagaWorld Strikers Accept Payout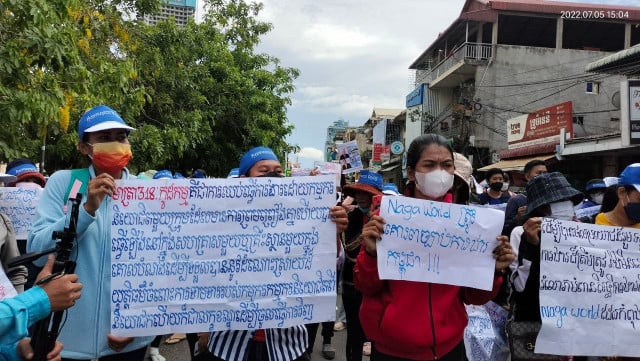 PHNOM PENH – Three more former NagaWorld employees have agreed to accept compensation and end their fight to get their jobs back. Another 134 workers are continuing the protest.
The Ministry of Labor and Vocational Training said on Sept. 4 that it had verified severance pay with a representative of NagaWorld and the three former employees.
Chhim Sithar, president of Labor Rights Supported by Union of Khmer Employees of NagaWorld, said the company had a fraudulent strategy to cooperate with the Ministry of Labor to prolong the dispute, put economic pressure on employees and force them to accept illegal compensation.
Sithar said these actions showed that the government protects private companies even if they are in violation of the law. This was a lesson citizens can take to decide at the next national election.
The strikers had no choice but to receive compensation for illegal termination of their contracts, the union said.
Sithar said union freedom cannot be exchanged for money and they would continue to advocate until a solution is found.
Khun Tharo, programme manager for the Centre for Alliance of Labour and Human Rights, said it was clear that the ministry tried to resolve only compensation cases but did not try to resolve disputes about rights, such as the dismissal of union leaders and the reinstatement of union leaders in accordance with the rule of law, which seriously affected their rights.
Tharo said denial of union registration and union contributions was interference in the internal affairs of unions and was prohibited by the core conventions of the International Labor Organization, which Cambodia has ratified.
"We observe that the Ministry of Labor has made many procedural mistakes in the process of resolving disputes. There are irregularities and the intention to delay a resolution," he said.
As of September 4, 239 former NagaWorld employees out of 373 have agreed to receive severance pay from the company. This month, 21 agreed to accept compensation.
Former employees have been on strike since Dec. 2021 over the dismissals, which were on the grounds that the company suffered financially during the COVID-19 outbreak.
The strikers are demanding that the company takes back those who have been laid off. Their protests have not been successful and a series of people have been arrested but were released later.
Related Articles