Three New COVID-19 Cases Found in Relation to Community Outbreak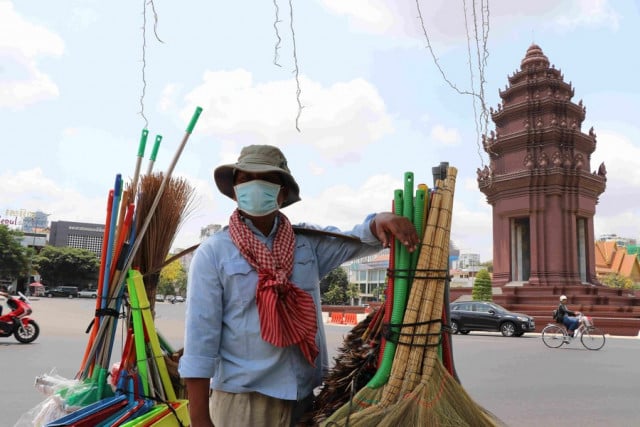 Phoung Vantha
December 1, 2020 3:16 AM
More infections are being found in connection to the latest community outbreak that was sparked by the Prisons Department director's wife.
PHNOM PENH--Three more people have tested positive for COVID-19 in relation to the Nov. 28 community outbreak, according to a Dec. 1 statement from the Ministry of Health.
One 64-year-old Cambodian woman was found to have contracted the virus on Nov. 30. She is the mother of a woman who is married to the Deputy-Director of the General Department of Prisons and is believed to reside in Chamkarmn District, Phnom Penh.
Two other new patients include a 25-year-old woman and her 7-month-old baby who both live in Khan Chbar Ampov, Phnom Penh.
All three have been hospitalized and are receiving treatment at the Khmer-Soviet Friendship Hospital.
According to the Health Ministry, 4,869 people have been tested for COVID-19 in relation to the Nov. 28 outbreak, with 17 of them so far testing positive.
While three more people were infected in Cambodia, three other patients have recovered from COVID-19, including a Cambodian UN operations officer who had served in South Sudan, the Hungarian Ambassador to Cambodia and Vietnam and a 27-year-old Cambodian man who had returned from Japan recently.
However, Cambodian People's Party Parliamentarian Sous Yara, who caught COVID-19 in connection to the Hungarian Foreign Minister's one-day visit, has been re-admitted to hospital just weeks after allegedly recovering. He is once again in Khmer-Soviet Friendship Hospital seeking treatment.
As of the morning of Dec. 1, Cambodia has reported a total of 326 cases, of which 22 remain active, but no official deaths related to COVID-19 have been recorded.
Related Articles