Tiger Beer jams to Khmer street style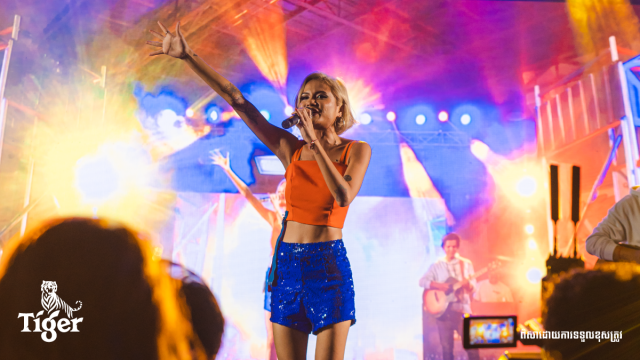 Tiger Beer, the world-acclaimed premium beer known to fight against the odds, is activating another electrifying event in Cambodia: Tiger Street Jam.
Celebrating the uniqueness of the Khmer street style, Tiger Street Jam is set to be a series of thrilling events in cities throughout the Kingdom.
Tiger Street Jam is positioned to feature Khmer Pride, highlighting modern hip-hop dance & music, trendy urban fashion, vibrant street art, and Khmer and Asian street food.
This will allow locals and international tourists to immerse themselves in Khmer urban street culture and Cambodia's homegrown brands that are kick-starting a new wave of street culture in Cambodia.
'In 1932, Tiger Beer fought against the odds and unlocked a boldly refreshing beer that even the experts claimed was impossible.
Hence, Tiger Street Jam will be another bold move to showcase the unique Khmer street style while bringing together Cambodia's hidden talents to unleash their boldness.
All spectators will get to uncage their inner Tiger in a different and unique way, said Sorida Kong, senior innovation manager at Heineken Cambodia.
Tiger Street Jam is scheduled to be celebrated in many outlets throughout Cambodia.
Participants can uncage their inner Tiger in activities including live dance and rap battles and live graffiti, or enjoy shoe customization, Tiger merchandise showcase, headliner performances, temporary and permanent tattoos, street-food and Tiger Beer.
Every Tiger Street Jam is ready to feature Cambodia's boldest artists live on stage accompanied by rap and dance battles in which the public can participate with their boldest moves, competing for the grand prize.
The first Tiger Street Jam, on 29th and 30th April 2023 at Factory Phnom Penh, was a huge success and a remarkable kickoff to the Street Jam series.
Headliners Kesorrr, Tey$, and Vin Vitou along with other artists exhilarated the audience who joined in. Fun and bold activities were also a fantastic hit at the event, with a huge energy coming from contestants in the dance and rap battles.
The next event is set for May 19th and 20th at Eden Garden in Phnom Penh.
Tiger Street Jam will be run in many locations across the Kingdom for the whole of this year. For further information, visit Tiger Beer socials or Tiger Beer website.
About HEINEKEN Cambodia
HEINEKEN Cambodia is one of the leading brewers in the Kingdom, established in the country in 1994. Driven by its purpose to brew the joy of true togetherness to inspire a better world, the company creates great experiences for consumers and customers with a portfolio of high-quality local and international brands, including Heineken®, Tiger, ABC, Anchor and Gold Crown. With its national footprint and state-of-the-art brewery in Phnom Penh, the company employs 700 people and supports 120,000 indirect jobs across its value chain. Committed to the sustainable development of Cambodia, HEINEKEN Cambodia aims to ''Brew a Better Cambodia'' with a focus on the environment, social sustainability and responsible consumption on a path to a net zero, fairer and healthier world. HEINEKEN Cambodia is part of the HEINEKEN Company, the world's most international brewer.
Related Articles