Timor-Leste FM to visit Cambodia, seeks support for ASEAN membership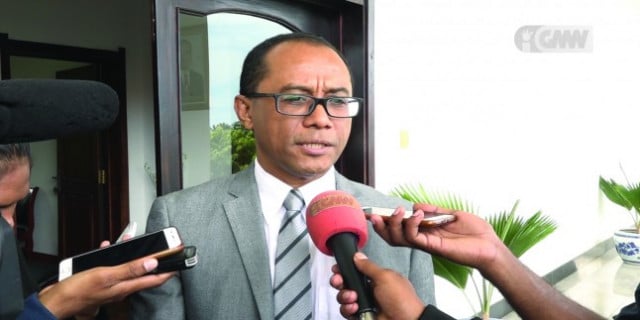 Thmey Thmey
June 2, 2019 8:24 AM
The visit seen as effort to strengthen ties and seek Cambodia's support for its repeatedly delayed ASEAN admission
PHNOM PENH--Timor-Leste Foreign Minister Dionisio da Costa Babo Soares is set to pay a two-day official visit to Cambodia from Mondayto boost bilateral relations and seek Cambodian support for its ASEAN membership.
Babo is scheduled to pay courtesy calls on Prime Minister Hun Sen and other leaders, the Ministry of Foreign Affairs and Cooperation said.
He will then meet Foreign Minister Prak Sokhonn to discuss a range of issues from strengthening bilateral ties to exchanges of views on regional and international affairs.
Cambodia and Timor-Leste established diplomatic relations after the country declared its independence from Indonesia under a UN-referendum in 2002. Economic and diplomatic cooperation has expanded with Hun Sen paying the first official visit to the country in 2016.
Timor seeks Cambodia's support for ASEAN membership
The two ministers are also expected to discuss Timor-Leste's desire to accede to the Association of Southeast Asian Nations (ASEAN), currently chaired by Thailand.
Babo recently met ASEAN Secretary General Lim Jock Hoi to discuss membership and is expected to meet Malaysian Prime Minister Mahathir Mohammad in July.
Timor-Leste formally applied to be the 11th member of the regional grouping in 2011 but its application is still being assessed. Despite Timor-Leste fulfilling requirements under Article Six of the ASEAN Charter, accession requires consensus among ASEAN members.
During a meeting with the then Timor-Leste Prime Minister Rui Maria de Araújo in 2016, Hun Sen said he supported the country's membership as it could deepen cooperation and help improve regional stability
Related Articles