Today's World in Bright Colors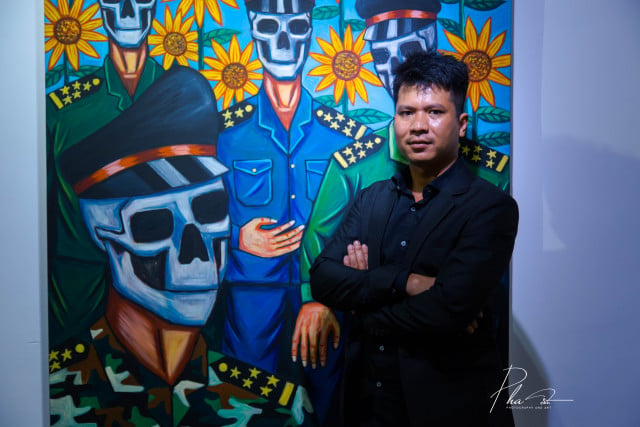 January 25, 2022 12:08 PM
A Cambodian artist depicts Cambodia of the 2020s in vibrant images

PHNOM PENH--The exhibition "Wings of Tomorrow" of Pen Robit, which is currently held at the Silapak Trotchaek Pneik gallery in Phnom Penh, features in clear lines and straight colors people and objects in scenes whose meaning seems at first easy to grasp but in fact goes far beyond the obvious.
In his painting entitled "Beautiful Day," 5-star military officers in various uniforms stand with giant golden flowers behind them and blue sky over the horizon. Their faces, however, are those of skeletons. This, Robit explained, reflects the fact that the military is in power in several countries in the region such as Myanmar. Why showing this in a field of flowers with the sun shining? Because the painting is meant to reflect the situation: The goal is not to pass judgement, he said.
Another painting depicts human parts and organs—lungs, heart, brain, eyes and so on—done in muted pink against a dark grey background. "I chose the important parts of the body," Robit explained. Entitled "The Fragmentation," this is a reminder that these essential body parts that make the human body alive and beautiful when in place may appear strange or even ugly to some if displayed in parts, he said. "It's like Nature: It's beautiful when it's together…When you like a flower and pick it, for you it's beautiful. But Nature has lost a part…and is not so beautiful anymore."
Born the year of the signing of the Paris Peace Agreement in 1991, Pen Robit is from the first generation of painters and artists who grew up in post-war Cambodia, voted for the first time in the 2013 national elections. And who, like many of the country's leading artists of his generation, were trained at the NGO Phare Ponleu Selpak's art school in Battambang City by master painters such as the late Srey Bandol. Over the years, Robit's work has been exhibited several times in Phnom Penh and Siem Reap City. Selected as artist-in residence for the OzAsia Festival in Adelaide in Australia in 2016, he has taken part in arts events and exhibited in Canada, France, Taiwan and Thailand, his style evolving in the process.
It is in February 2020, when he returned from Malaysia where was held a solo exhibition of his work, that the idea for this series of oil paintings "Wings of Tomorrow" came to him.
This is the story of today, he said. "The technique is classic…modern art period…But I put the story in present day."
If one wanted to put a label on his approach in this exhibition, one might speak of Contemporary Realism—a style in painting that emerged in the 1960s and 1970s.
One painting is a reflection on the pace of today's development. Entitled "Progressivity," the scene features a series of highrises in the background with a section of a plane, a piece of wood and a unicorn flying over water and a small patch of green that is an island. Then to the right, there is a fan blade with parts of a face designed on each section of it: eyes, ear, mouth and nose. The painting is about development, Robit said. "Development is too fast sometimes, and nature cannot follow the development. So, the aircraft and…unicorn: …development race with nature."
The blade is a reminder of trees being cut, and, he said, "the cut face [shown on the blade] means you can see what happens, but you cannot do anything. You can talk, you can listen, you can breathe. You can see the problem, but you cannot do anything."
In this series, the men who serve leaders or the wealthy remain in the background, their faces not seen as in the painting entitled "The Great Meeting," in which the interpreters of the leaders appear with animal heads.
Finally, some paintings present simpler scenes such as the one entitled "Late Night Drinks" in which a man who looks rather lonely is sitting next to a round table on which is a bottle of red wine and a glass half filled with part of a flag with white stars on a blue background on the wall. And one painting featuring a woman lying down is a reminder of prostitution in Cambodia. "She has no choice," the artist said.
Robit took nearly one year to complete this series of paintings for which he chose to use strong colors. "Colors [add to] life for humans, give beauty, give happiness to humans," he said. "Colors can bring us beauty so that's why for every painting, I use very bright colors."
The exhibition runs through Feb. 10.
The Silapak Trotchaek Pneik art gallery is located at the YK Art House, 13A Street 830, off Sothearos Boulevard), in Phnom Penh.
For more information: https://www.facebook.com/STPCambodia
Related Articles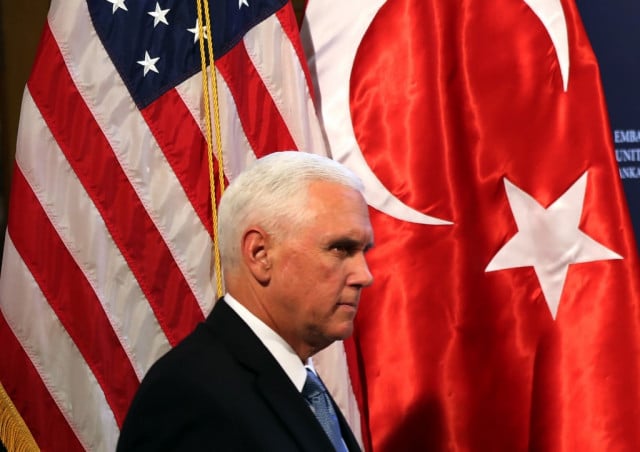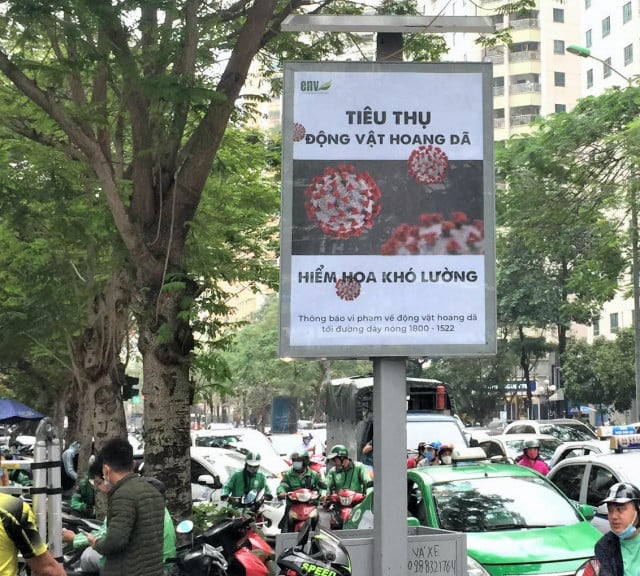 September 1, 2021 5:28 PM