Tougher control of tobacco consumption needed in Cambodia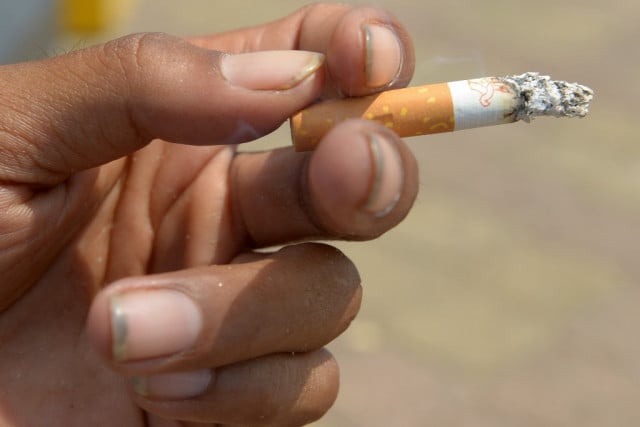 Thmey Thmey
July 4, 2019 10:23 AM
Scaling up tobacco control measures will save 57,000 Cambodian lives and avert US$1.9 billion in health costs and economic losses by 2033
PHNOM PENH--Cambodia needs a tougher measure on tobacco use in order to protect public health and prevent the economic costs associated with it, the government and World Health Organization (WHO) said in a joint press release Thursday.

Issued during the launch of a new study looking into health and economic costs of tobacco use in Cambodia," the press release said smoking killed nearly 15,000 people since 2017 and that a third of them were from the low income families.
It added the tobacco related illnesses are believed to be responsible for economic loss of around US$657 million every year – an equivalent to 3 percent of the country's gross national products (GDP) – in terms of healthcare expenditures and 'hidden' productivity losses from premature death and disabilities.
"Scaling up tobacco control measures will save 57,000 Cambodian lives and avert US$1.9 billion in health costs and economic losses by 2033. This translates into 3,815 lives saved annually," the press release said citing the study's findings. The study was done within WHO Framework Convention on Tobacco Control (FCTC) – a tobacco control international treaty of which Cambodia is a party.
"While we have seen Cambodia make great strides in tobacco control, more can still be done to protect the people from the harms of tobacco," said Rodrigo Santos Feijo, a WHO's official.
Cambodian government raised tax on cigarettes from 20 percent to 30 percent of the retail price in 2014. The press release noted that the government's measure helped avert 46 percent of deaths during the first year of the tobacco tax increase.
Last month, Cambodian National Assembly also suggested that the government increase tobacco tax on top of the current level of 31.1 percent, which is considered still among the lowest in Southeast Asian countries.
"The Government is committed to implementing the necessary measures to better the health of all, save lives and improve the economic well-being of the country and the people," Oeurn Borarorth, secretary of state of Ministry of Health, said in the press release.
Related Articles