Tourism: Let's Switch to Green Fast! But Not Any Which Way…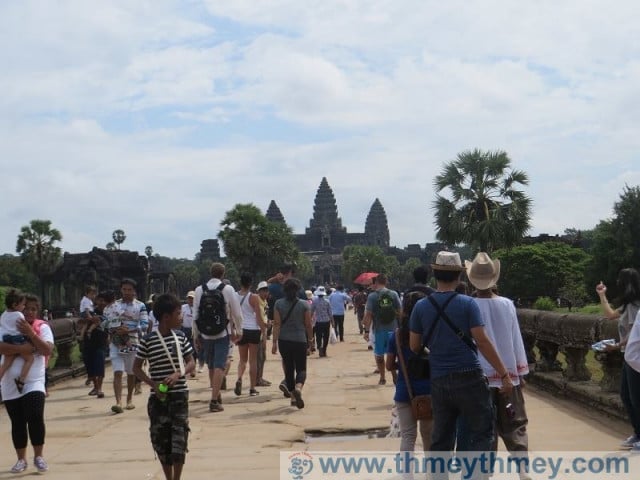 Lim Tola
October 20, 2019 7:15 AM
Few countries in the world have the honor and good fortune of having available an archeological heritage as prestigious and renown as the Angkor Archeological Park. Angkor Wat, Angkor Thom, the Bayon, the Baphuon, Banteay Srey: Just by running through the list of "headliners" with your eyes closed gives one the feeling of embarking on a fabulous trip through the history of the world in which would come to life, as if they were still in their old palaces, deities, celestial dancers, kings and warriors leading their people into epic journeys.
Those painstakingly assembled stones, long ago inhabited, offer their innumerable visitors much more than a look at architecture beyond time with statuary of extraordinary artistry. They give them something truly precious: a slice of dream and spirituality that feed the soul.
But is it truly known that Cambodia has much more to share. Nestled in the middle of its countryside, at the foot of the phnoms (mountains) or in the secret folds of its mountain ripples, true havens of natural beauty await visitors, set to provide tranquility, oxygen and wonder.
The announcement this month that an agritourism complex will be built in Kompong Speu province shows that the green-tourism trend is clearly under way. On more than 100 hectares in a green and hilly setting, the promoters will, according to news stories, pour millions of dollars into building a Cambodia history museum, fruit and livestock farms, islands, restaurants, a solar park, hotels, houses, cable cars, flower parks, nature trails, water-sports facilities, a café, fishponds, a parking, a clubhouse, pavilions, and so on.
This whirlwind of projects really blows one away. However, looking at this long list of planned development, a hint of concern creeps in. Once the landscape has been reshaped, what will be left that is authentic in this amusement park?
Of course, tourism requires an infrastructure that can appropriately, if not comfortably, manage and entertain visitors. But this could very well be done—as happens in a number of countries—through homestays in a preserved setting and in a way that would take away the need for a museum to explain the country's history and culture since the guest would actually be in full immersion in the country.
Yes to green tourism but, please, it is crucial that this industry's actors respect the ecosystems that they are supposed to promote and introduce to visitors.
Related Articles