Tourists Offered Ten Wonders for 2023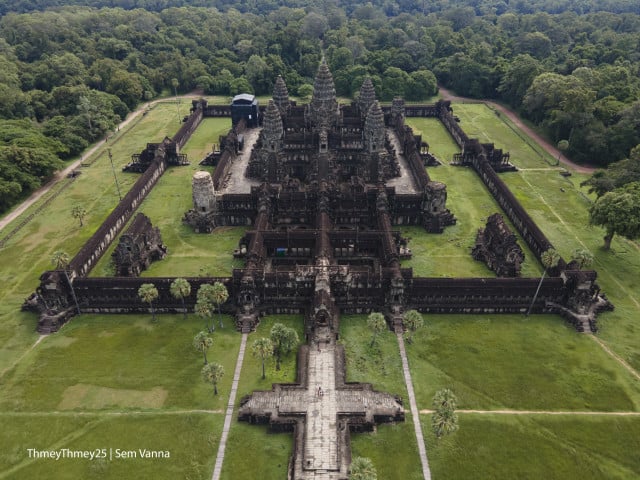 PHNOM PENH – Cambodia is ready to show 10 wonders to the world in the "Visit Cambodia Year 2023 Campaign," aiming to give tourists everyday experiences of cultural heritage, ecotourism and beaches.

Tourists can experience joyful gatherings, picturesque scenery, tasteful cuisine, sunrises, events and welcoming hospitality seven days a week, the Tourism Ministry says.

Of international toursts, 49 percent visit Cambodia for Angkor Wat while 62 percent of them come because of human factors, the ministry said.

The ministry has picked a golden-brown color to represent the logo of the campaign, symbolizing the shadow created by the early sunrise on the kingdom.

The logo includes the phrase "visit Cambodia 2023" with the letter "C" designed with the Khmer styles and designs, the picture of Angkor Wat and the tagline "Every day is a wonder."

"Cambodia provides good hospitality with friendly people, confidence, and trust to respond to the safety measures for COVID-19," the ministry said.

Through the campaign, Cambodia aims to attract at least four million international tourists and 15 million national tourists to generate $4 billion for the tourism sector this year.

The campaign is also to enhance the country's reputation and form links with the 32nd SEA Games and the 12th ASEAN Para Games in May.

This year, Cambodia has 22 international and national events and local events across 25 capitals and provinces, said Tith Chantha, the ministry Permanent Secretary of State.

He urged the relevant parties to join in pushing the success of the campaign and for people to provide good hospitality for tourists.

The campaign was launched in February and the policy measures and mechanism of its implementation were announced yesterday.

According to the ministry, the number of foreign visitors reached nearly 2.277 million in 2022, twelve times the figure for 2021.
Related Articles