Traditional Cambodian Acting Legend, Pring Sakhorn, Dead at 83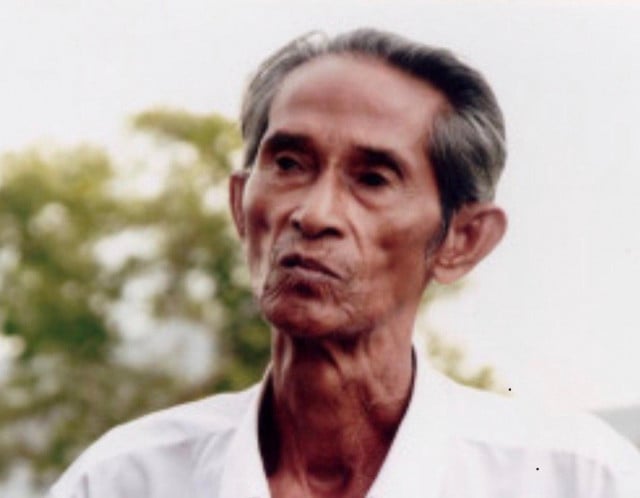 Having survived Pol Pot's murderous regime, Pring Sakhorn dedicated his life to teaching Cambodians the essentials of acting and helped to preserve traditional performances.

PHNOM PENH--Pring Sakhorn, the master of traditional Cambodian acting and performance passed away on July 19 at the age of 83, according to the Ministry of culture and Art. According to his wife, Sakhorn passed away due to complications with his heart and lungs.

Regarded as a living human treasure for his outstanding performances and great efforts in sharing his knowledge with the younger generation, Sakhorn was born in Tamol Vilage, Prek Dambouk Commune, Srei Santhor District, Kampong Cham province.

Many actors and actresses were killed during the war era, as the Khmer Rouge sought to wipe out all traces of Cambodia's rich heritage. Pring Sakhorn had survived the horrors of that time and went on to become highly celebrated within the artistic community. He had not only preserved traditional art forms, but he developed them and continued to pass on his knowledge and expertise to younger generations.

He is perhaps best known for his performance of "Ta Chou Jouk" but has performed a huge range of plays over the course of his 83 years.

In 2012, he was nominated by the Ministry of Culture and Fine Arts and UNESCO as a Living Human Treasure for not only his unique skills, but his willingness and passion to share his considerable knowledge with the younger generation.

Sakhorn is remembered for having advised all actors and actresses of the young generation to love their job, according to UNESCO Cambodia.

"By loving their profession, it will help them to perform better and at the same time let the audiences enjoy their show," said Sakhorn in a 2014 video recorded by UNESCO in Cambodia.

"Actors and actresses should respect their role and responsibility and especially perform with ethical and moral standards," he went on to say.

Minister of Culture and Fine Arts Phoeurng Sackona said "May the soul of teacher rest in peace."

"I would like to bow the head to respect the teacher for the last time, with nostalgic love, no day to forget," she said.

The death of Pring Sakhorn, a talented actor and professor, has brought great sorrow to his children, grandchildren and relatives, as well as the next generation of artists who have been trained in various arts under him.

Cambodians have taken to social media to express their condolences to Sakhorn's family, following a statement on his death from the Ministry of Culture.
Related Articles