Trafficking and the Cyber Sphere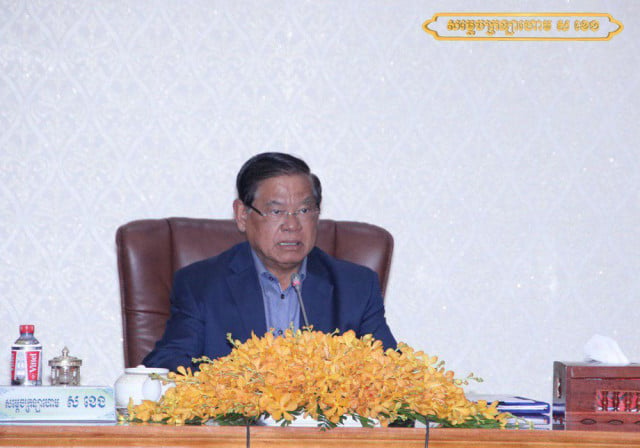 Jazmyn Himel
October 26, 2019 12:08 PM
PHNOM PENH-- A 2019-2023 National Plan to counter new types of cyber-facilitated human trafficking has been announced by the National Committee for Counter Trafficking (NCCT).

Cambodia was ranked as 'Tier 2' in the 2019 US Department of State Report on "Trafficking in Persons," with Tier 3 being the lowest rank. The Cambodian government, the report said, had "not fully met the minimum standards for the elimination of trafficking."
Interior Minister Sar Kheng attributed the low score to "not submitting updated reports on time." He urged the relevant authorities to monitor and fight against brokers who, he said, "always find new ways and traps to cheat people" into being trafficked.
In its 2018 report on Cambodia, the NGO End Child Prostitution And Trafficking (ECPAT) noted that "increased vulnerability to sexual exploitation enabled through digital technology is a growing phenomenon."
With easy access to social media accounts and internet, the report read, "pornographic images are trivialized, resulting in premature sexualization of children's lives and contributing to learned sexual behaviors and norms to which children aspire."
According to the US Department of State report, a key weakness in Cambodia's anti-trafficking efforts was the fact that the "authorities did not adequately collect or share key information on law enforcement efforts." Among its recommendations, the report called for the implementation of a "system for monitoring and collecting data on anti-trafficking prosecution and victim protection efforts."
ECPAT also stressed the importance of "gathering and monitoring data on the number of victims [by] sex, age and form of exploitation, including sexual exploitation."
"Unfortunately, accurate estimates showing the extent of the problem are difficult to produce [due to the] oversaturation of participants…[with] each stakeholder providing their own assessment of the problem and their estimate of the number of victims," the ECPAT report read.
Related Articles