Trump invites Hun Sen to attend U.S.-ASEAN Summit next year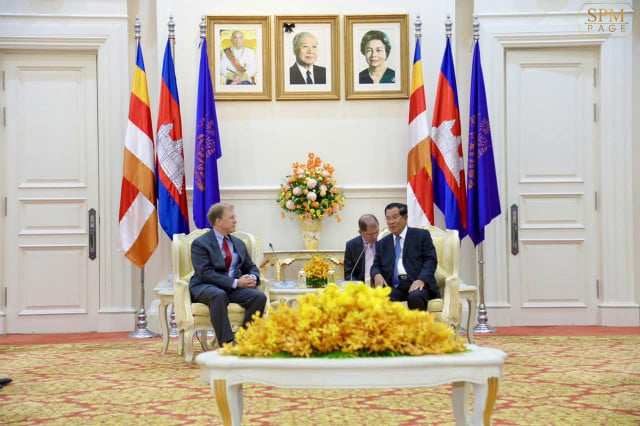 Torn Chanritheara
November 22, 2019 10:05 AM
Phnom Penh – Cambodia's Prime Minister Hun Sen has been invited by President Donald J. Trump to attend a U.S.-ASEAN Summit to be held in the United States next year.

U.S. Ambassador Patrick Murphy delivered the invitation to Hun Sen at a meeting held in the Peace Palace on Thursday, according to a statement on the Prime Minister's official Facebook page.
The statement said the summit is slated to take place in the first semester of 2020 but it did not say where exactly in the U.S.
"Samdech Prime Minister considers the summit to be strategically important in bringing the U.S. and ASEAN closer to each other and in helping advance mutual progress and benefits," the statement quoted Hun Sen as saying.
It added that the Prime Minister also received, through Ambassador Murphy, a second letter from President Trump in which the latter expressed his "willingness to strengthen and improve the long-standing bilateral relation" and "to promote friendship, cooperation and mutual trust" between the two countries.
The statement quoted Hun Sen as saying that the letter "clearly affirms the United States' position and high commitment to support Cambodia, respect her sovereignty, and, particularly, is not in favor of any attempt at regime change in Cambodia at all."
Meanwhile, on its official Facebook page, the U.S. Embassy posted a short statement accompanied by pictures of the meeting between Ambassador Murphy and Hun Sen on Thursday. The message mentioned about the invitation for Hun Sen to attend the summit in the U.S. However, it did give any reference to the letter from President Trump to Hun Sen.
The statement said that Murphy and Hun Sen "continued their discussion on U.S. support for the Cambodian people and on democracy and rights steps that will strengthen the bilateral relationship."
Related Articles