"Truthful Information Includes Criticism" Sar Kheng Reminds Officials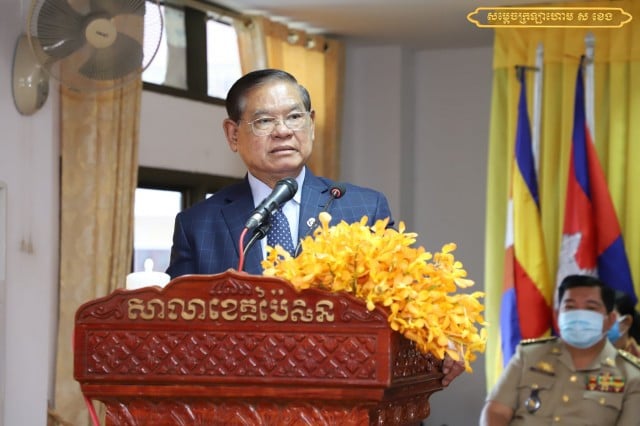 Romdoul Chetra and Sao Phal Niseiy
December 21, 2020 10:41 AM
Deputy Prime Minister Sar Kheng warned against labeling all criticism as fake news, noting that the government must accept factual critiques as willingly as it accepts praise.
PHNOM PENH--Interior Minister Sar Kheng instructed his officials to balance fake news and honest criticism, stressing that truthful information is not always about positivity and praise.
Speaking during the handover of duties ceremony for the new Pailin provincial governor, Deputy Prime Minister Sar Kheng reminded his lower officials that the true information is not always about compliments or appreciation, but also included criticism.
"Don't forget that true information doesn't mean that it is only about admiration. When people criticize us [regarding the issues] which are correct and factual, but we consider it as fake, that means we are wrong," Kheng said, adding that all provincial leaders and authorities must accept both appreciation and criticism made by the general public.
He also instructed that the authorities must work harder to educate and explain to the people in a timely manner in order to address the issue of fake news and other types of public incitement in their respective communities.
Kheng stressed that the government welcomes both appreciation and denunciation as long as it is factual, but said he would not accept assertions that are aimed at inciting and destroying national security and public order.
The deputy prime minister also went on to prohibit the authorities from deploying violence as a means to deal with any problems with the people, insisting that only legal principles and regulations must be utilized to resolve the problems.
Kheng's comments came just days after the release of a new report from rights group LICADHO, which highlighted that the Cambodian government's crackdown on human rights and the opposition party over the past three years.
The report also indicated that the ruling Cambodian People's Party had used the legislative to enact new laws which provide almost absolute power to the government. In addition, it also called out the continuing arrests of people who expressed their opinion in advocating for freedoms and rights.
However, the Ministry of Justice's spokesperson Chin Malin, who is also the vice president of the government's Cambodian Human Rights Committee, claimed that the government has been enforcing laws against any violators regardless of their political tendency—which he said is the right thing to do.
Related Articles