Twelve Baby Talc Powders Back on the Market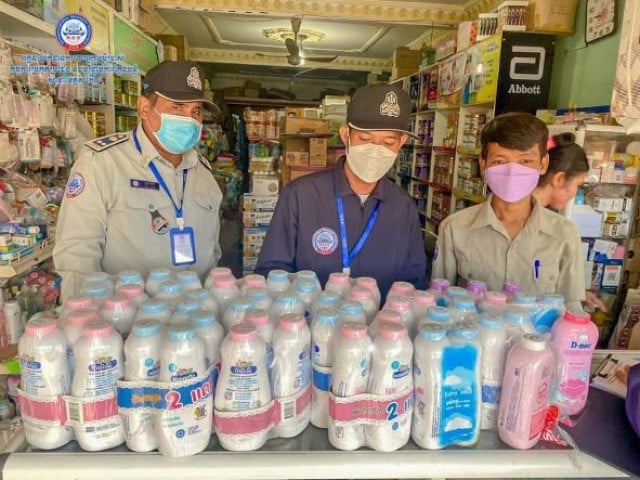 September 6, 2022 3:33 PM
PHNOM PENH – On Sept. 5, the Consumer Protection Competition and Fraud Repression Directorate-General (CCF) issued an announcement allowing companies to reimport and redistribute 12 baby talc powders on the Cambodian market after no traces of harmful substances were found.
These references, imported from Thailand and Malaysia, saw their commercialization suspended on Aug. 22. After conducting a primary analysis, the CCF suspected these products to contain asbestos, a mineral that causes lung cancer, and ordered importers and distributors to recall their products to conduct further studies with the support of a third party.
In collaboration with OCCSAFE Australia, product samples were sent to Australia to be analyzed at COHLABS, a laboratory that specialized in asbestos research. Using the Transmission Electron Microscopy technique, an advanced technology that is not present in Cambodia, the laboratory confirmed the absence of asbestos in the 12 suspected product references.
The baby talcum powders listed by the CCF include Johnson's baby powder 380g (with three different production dates: 01/09/2020, 06/05/2022 at 9:47 p.m. and 06/05/2022 10:46 p.m.), Johnson's blossoms baby powder 380g (with two different production dates: 25/01/2021 and 05/05/2022), D-nee Kids Baby Powder 380g, D-nee Newborn Baby Powder 380g, Pureen baby powder 125g, Laffair Be Love 320g, Kodomo Baby Powder 180g, Bhaesaj Cool Powder 35g, and Babi mild Natural 'N Mild 180g.
When conducting the primary asbestos analysis at its laboratory, CCF used a technique of Polarized Light Microscopy (PLM), a technology provided to CCF's teams with training by Australian experts.
It clarified that baby talcum powder sometimes contains traces of asbestos-look-a-like, but non-harmful, minerals. But the PLM technology can't clearly identify the difference with asbestos, thus requiring the need for a more advanced analysis from a third party
Related Articles