Two Chinese Arrested for Smuggling More than 70 Kilograms of Drugs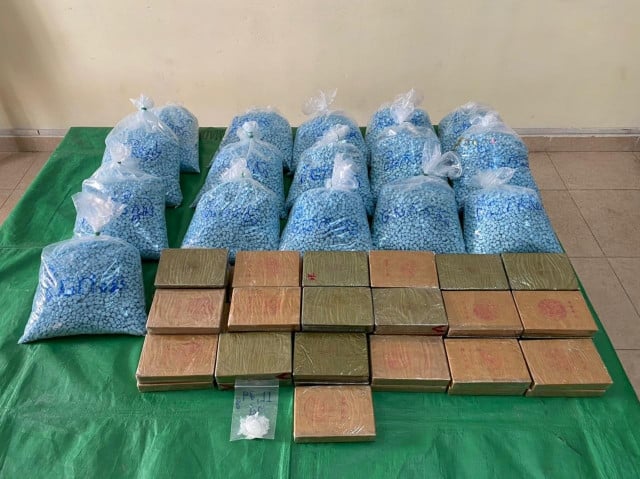 Sao Phal Niseiy
May 16, 2021 12:47 PM
They were apprehended during an anti-drug police operation in Phnom Penh
PHNOM PENH--The National Police announced on May 16 that two Chinese nationals had been arrested in a police crackdown on drug smuggling to Vietnam.
According to the report of the Cambodia General Commissariat of National Police on its official website, 40-year-old Lui Jic and 50-year-old Chan Hung Fai are now in custody and their case has been sent to the Phnom Penh Municipal Court for further legal action.
More than 70 kilograms of drugs were seized during the operation, the report read. "The investigation on drug smuggling through Cambodia to Vietnam began on May 5.
"And on May 12, the crackdown operation was launched by the anti-drug police at a house located in Borey Peng Huot Boeung Snor in Chbar Ampov District, Phnom Penh," the report said. The drugs seized included 52 kilograms of methylenedioxymethamphetamine (MDMA), 17.293 kilograms of heroin and 11.79 grams of methamphetamine.
According to the National Police, the authorities sought to arrest other people involved in this drug trafficking case but they have escaped. In addition, an investigation into money laundering in connection with this drug smuggling ring has been launched, the police report read.
Cambodia has been known as a major transit for illicit drug trafficking over the past years. While the country has no death penalty for trafficking even large quantities of drugs, under Cambodia's drug laws, anyone found guilty of trafficking more than 80 grams of drugs may be sentenced to life imprisonment.
In March, three Chinese and one Vietnamese were arrested in a drug sweep as they reportedly planned to deliver drugs to a COVID-19 quarantine center in Sihanoukville, having methamphetamine and other illicit substances hidden in pots of noodles, according to Provincial Police Chief Major-General Chuon Narin.
According to the anti-drug police department, a total of 19,576 suspects including 318 foreigners were detained on drug-related charges from January to November 2020.
Related Articles