Two COVID-19 Cases Confirmed in Kep as Chinese Embassy Announces Vaccine Breakthrough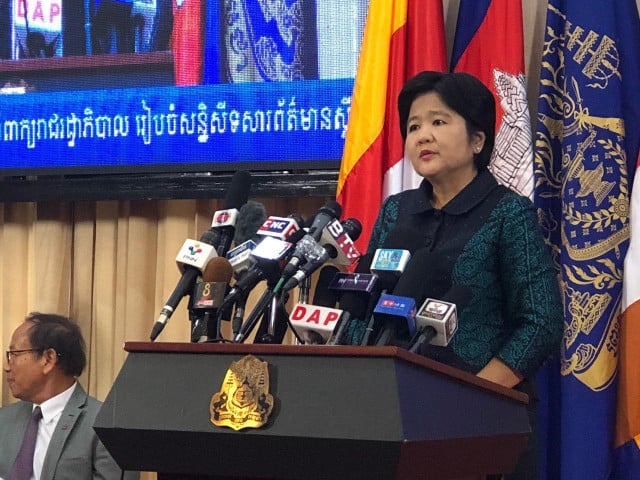 Phoung Vantha
March 18, 2020 3:01 AM
Cambodian Ministry of Health confirms two Malaysian nationals have tested positive for COVID-19

PHNOM PENH--Cambodia Wednesday confirmed another two cases of COVID-19 in Kep. Or Vandine, spokesperson for the Ministry of Health announced that two Malaysian nationals have tested positive for the virus and are entering quarantine in a mosque in Kep now.

On Wednesday morning, the Chinese Embassy in Cambodia took to Facebook this morning to announce that a vaccine for COVID-19 has been developed by a team from China's Academy of Military Medical Sciences. Led by top epidemiologist Chen Wei, the research was reportedly approved to launch clinical trials in China on Monday.

"China has finished the preliminary preparation for producing safe, effective and qualified COVID-19 vaccines on a large scale according to international standards and domestic regulations," the embassy's post reads.

Chen Wei, a veteran epidemiologist who has previously worked to produce an Ebola vaccine in 2017, has reportedly been operating out of the Wuhan Institute of Virology, which Chinese state media reports as being the only P4 laboratory in China. P4 laboratories are typically used for the study of diseases with no known vaccine or cure and are of the highest biosafety classification.

However, Chinese state media reports that the vaccine will "likely not be available for wide use for another 12-18 months," but suggests that China and the United States will be competing in a "vaccine race" to address the global COVID-19 pandemic.

This comes after Cambodia saw the single largest jump in the number of confirmed cases of COVID-19 on March 17, where 21 new infections were identified across the country. This morning latest confirmed cases brings the total number of infected up to 35 in Cambodia with no fatalities reported at press time.

Globally the coronavirus has infected more than 198,000 people and led to 7,987 deaths as the world struggles to contain what the World Health Organization has described as a global pandemic.
Related Articles