Two Deaths and over 14,000 People Displaced due to Floods in Cambodia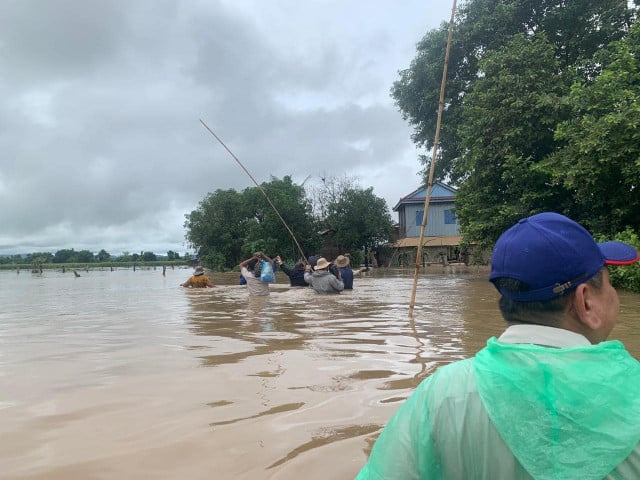 Sao Sokeng
October 10, 2020 10:43 AM
The heavy rains have caused flashfloods throughout the country
PHNOM PEN--Two people were reported on Oct. 10 to have died in a flash flood, which affected more than 14,000 people across Cambodia.
"Nine provinces—Banteay Meanchey, Battambang, Kampong Chhnang, Kampong Speu, Kandal, Pailin, Pursat, Svay Rieng and Takeo provinces—as well as Phnom Penh have been affected by floods due to the heavy rains since Oct. 1," Khun Sokha, spokesman for the National Committee for Disaster Management, said in a phone interview on Oct. 10.
According to Sokha, the floods have affected more than 14,000 people, with more than 700 people having to be evacuated. This natural disaster also caused two deaths: one person who died from drowning and the other due to a lightning strike, he said.
Moreover, he floods have damaged more than 10,000 hectares of paddy fields and more than 30,000 hectares of mixed crops, Sokha added.
The Ministry of Water Resources and Meteorology issued a statement on Oct. 10 explaining that the country has been affected by low pressure, which caused moderate to heavy rainfalls during several days in the northwestern and northern provinces.
"There was more flooding," the ministry said in its statement, adding that there may be more rain, wind and high waves in the coastal areas.
The governors and the authorities in the nine most affected provinces and Phnom Penh are carrying out rescue missions and evacuating people, the ministry said.


The ministry calls on the relevant ministries and institutions at all levels as well as the local authorities and the public to remain vigilant
Hem Rithy, director of the Pailin Provincial Administration, said that heavy rainfalls since Oct. 8 caused flashfloods that affected 40 houses and four roads in Sala Krao District's Stung Trang Commune.

"The people and livestock affected by the floods have already been rescued by the local authorities and evacuated to a safe place," he said in a phone interview on Oct. 10.
According to the Ministry of Water Resources, some districts in Pursat Province have also been affected by the floods, prompting the provincial authorities to open the floodgates to let the water flow into the Tonle Sap lake.
In Preah Vihear Province, the floods affected 10 houses in Chhep District. And in Battambang Province, some houses and roads in several districts have also been affected, the ministry said. The Battambang provincial authorities have called on people living along the Stung Sangke river to remain on high alert.
In the meantime, the ministry has called on relevant ministries and institutions, the local authorities at all levels as well as the public, especially in those affected areas, to stay vigilant.
Related Articles