Myanmar Seat Empty as ASEAN Ministers Meet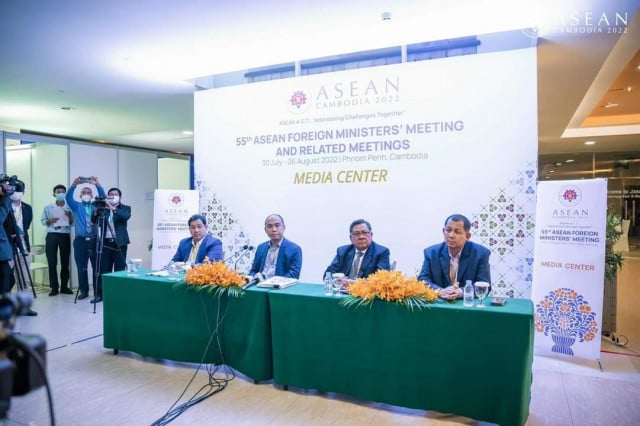 PHNOM PENH – Myanmar's seat is empty as ASEAN foreign ministers meet in Phnom Penh but the foreign ministers of North Korea and the Philippines are not there either.
Kung Phoak, Secretary of State of the Ministry of Foreign Affairs and International Cooperation and head of the Office of Special Envoy of ASEAN, said that only senior officials of the Philippines and the North Korean ambassador would join the meeting, which runs until August 6.
Cambodia has invited a non-political representative of Myanmar to the meeting but the military junta has refused to send one.
Philippine Foreign Secretary Enrique Manalo said he could not be there because he had tested positive for Covid-19.
Phoak said that as ASEAN host, Cambodia doesn't want to choose any side. ASEAN would stand on its ground in maintaining its relationship with all partners.
ASEAN was a forum to promote the partnership between ASEAN countries and other partnerships. ASEAN did not want to choose between any of the great powers but would choose all of them because ASEAN promotes cooperation between all ASEAN members and ASEAN and its dialogue partners.
"I think this principle will still be applied and will still accelerate the partnership between ASEAN and its dialogue partners to resolve the internal and external challenges and problems that we are facing at the moment related to the economy and especially the COVID-19 recovery.
He said ASEAN has its own independence in terms of principles and purposes to bring all ASEAN members together for cooperation and with dialogue partners. This meant that before ASEAN implements any principle, its members have to make sure that the implementation is in line with ASEAN's priorities.
"For example, regarding economic recovery from the pandemic, ASEAN has established the ASEAN Comprehensive Recovery Framework and we urge our members to implement policies that align with ASEAN's priorities," he added.
ASEAN welcomed all kinds of cooperation, contributions and participation from all relevant partners.
"That's why, during this 55th AMM and related meetings, ASEAN is starting to strengthen its relationship with another six countries which have arrived in Cambodia to sign agreements with ASEAN," he said.
"ASEAN continues to encourage all superpower countries to collaborate with ASEAN to solve big issues that all are facing.
"We want our partners to take this opportunity to resolve our common problems together, to discuss with each other, to set out policies as the means to reduce the complexion – or even to build long-term peace – to improve the livelihood of the ASEAN's people."
Senior officials from ASEAN member states and permanent representatives to the bloc arrived over the weekend, followed by the foreign ministers.
Foreign ministers of major countries including the US, China, Australia, Japan, Russia, India, Canada and Pakistan were due to attend the event.
This story has been updated to clarify that only one foreign minister seat is empty after an original headline suggested that two seats are empty.
Related Articles