Two Held over PM and King Protocol Posts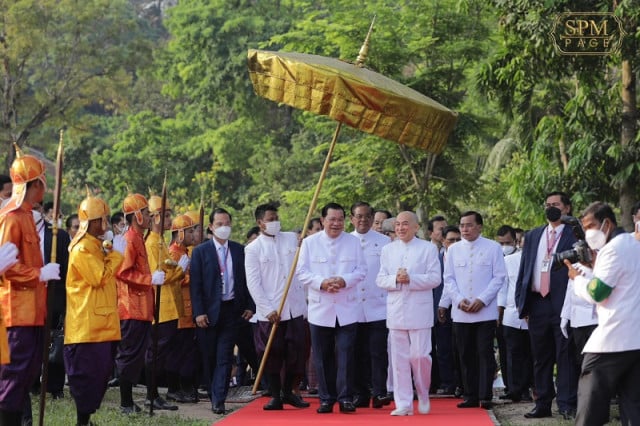 PHNOM PENH – Two opposition activists have been arrested after they posted critical statements about Prime Minister Hun Sen related to the King. Hun Sen said both statements contained provocative content.
Yim Sinorn and Hun Kosal, who are known to be close to detained former opposition leader Kem Sokha, were arrested on the evening of March 21.
King Norodom Sihamoni presided over the ceremony and lit the SEA Games torch at Angkor Wat on the morning of March 21, accompanied by the Prime Minister and other high-ranking officers.
Later, pictures showed the man holding the umbrella for the King standing behind Hun Sen.
Sinorn posted, "According to the people's opinions at the cafes today, we can clearly see who is the real king of the earth"
He later deleted the post, saying people had misunderstood the meaning.
"I just posted a message that was the opinion of people at the coffee table, but many people think that I compared to other things. So, in order not to make people confused with the content that I posted earlier, I would like to delete it," he said.
The Prime Minister used his Facebook account to write in the comment box on Sinan's Facebook account telling Sinorn that it is no need to delete the post.
An individual commented by asking the Prime Minister if Sinan could be guilty.
"If there is no guilt, it might be strange because this was not a way of expressing one's opinion, but a deliberate distortion of the truth. However, I'll leave it to the court to decide," PM Hun Sen responded.
Hun Kosal also posted a statement with the King's picture on his Facebook page with the caption "They abuse and humiliate the King in all such ways."
"I'm the next generation of politicians, who will determine to use all available abilities to join with President Kem Sokha to protect the King's majesties and throne that the Cambodian people could not miss out on."
Phnom Penh Municipal Court spokesman Plang Sophal said prosecutors had not yet received the two men and the case.
On Mar 22 the Prime Minister said he does not accept any apologies and does not tolerate individuals who insult the King.
He said that if the ceremony's protocol arranged that his seat was equal to the King, he would fire the person responsible.
"What's the point in blasphemy of the King?," he said at a university graduation ceremony in Phnom Penh at which he questioned critics over the umbrella man case.
Related Articles