Tycoons Donate $10 million to Lao PDR as Cambodia Gifts COVID-19 Vaccines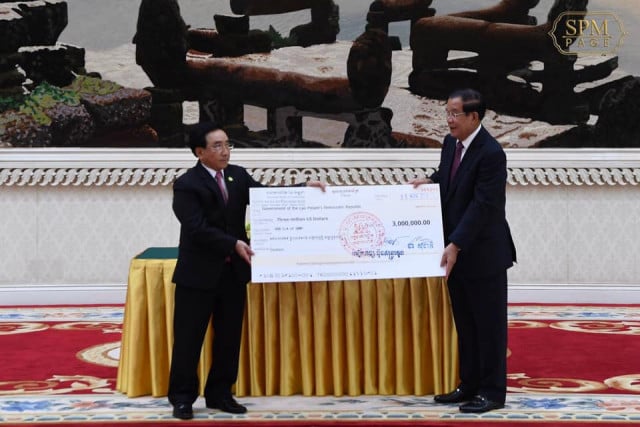 During a bilateral meeting between the two countries, Cambodian tycoons donated $10 million of the $13 million in aid given to Lao PDR along with 500,000 doses of Sinovac ahead of Cambodia's ASEAN chairmanship
PHNOM PENH--Prime Minister Hun Sen donated an additional $13 million and 500,000 doses of Sinovac vaccines to Lao PDR to assist in the country's fight against COVID-19, but also to promote the ASEAN framework which Cambodia will oversee as the bloc's chair for 2022.
The donation was made while Laotian Prime Minister Phankham Viphavanh became the latest ASEAN diplomat to meet with Prime Minister Hun Sen. The Cambodian government appears to be meeting with a host of regional diplomats ahead of its role as ASEAN chair.
Viphavanh and Hun Sen's meeting at Peace Palace culminated with Hun Sen agreeing to donate $13 million to Lao PDR, but just $3 million of this is from the government while $10 million is coming from Cambodia's economic elites, most of whom enjoy close ties to Hun Sen.
It is unclear why the donations going to Lao PDR are coming from Hun Sen's political allies, but novelty-sized cheques were handed over under the smiling gaze of Hun Sen as Prince Group's Chen Zi donated $2 million, as did real estate and music label tycoon Leng Navatra, Chip Mong Group owner Pheap Heak and Royal Group's Kith Meng. Thay Cheahuoth, chairman of Peng Huoth Group and Ing Bun Hoaw of ING Holdings each donated $1 million to Lao PDR.
"By providing aid and assistance to Lao PDR, Cambodia practices its active diplomacy on the regional stage in enhancing its cooperation and partnership with the neighboring country," said Vann Bunna, a research fellow at the Cambodian Institute of Cooperation and Peace, adding that Cambodia is seeking soft power among ASEAN neighbors.
Bunna added that the donation could help foster better cooperation on border issues including human trafficking and transnational security issues, as well as further developing economic ties.
Hun Sen's donation, Bunna said, can bring benefits to Cambodia and presents the country as a leader of regional diplomacy.
In yesterday's meeting, Viphavanh asked Cambodia to uphold previously agreed-upon pledges involving bilateral cooperation on education, culture, tourism, and investment with a comprehensive and mutual understanding.
At the same time, Hun Sen requested Lao PDR allow travel and trade across the border while he supported Viphavanh's remarks on boosting bilateral trade by promoting investment and supporting investors between the two countries.
Viphavanh went on to pay a courtesy visit to National Assembly President Heng Samrin on Nov. 30, a meeting Samrin would later describe on his Facebook page as one revolving around cooperation on border issues.
Cambodia has previously provided 2 million facemasks and other medical equipment to Lao PDR in 2020, while in September 2021, Cambodia then also donated 200,000 doses of Sinovac to Lao PDR.
Interior Minister Sar Kheng signed a memorandum of understanding with his Laotian counterpart, Minister of Public Security Lieutenant General Vilay Lakhamfong—the MOU aims to strengthen cooperation on the issue of drug trafficking and illegal border crossings.
Related Articles