Tycoons Signal Intent to Buy Government Bonds Next Year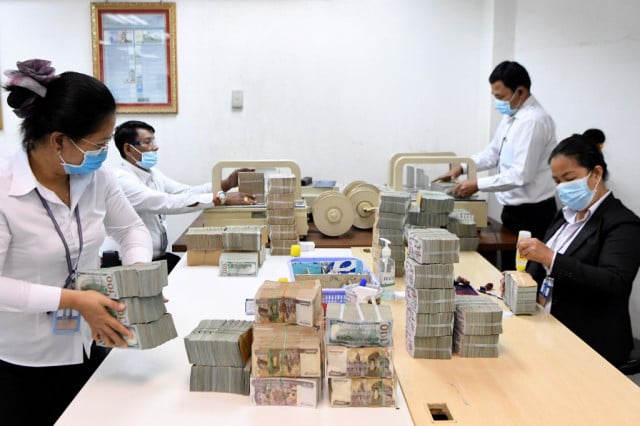 Government set to issue $300 million in bonds to finance public infrastructure and development projects, but so far there has been no word on what these projects might be
PHNOM PENH--Cambodian investors say they are ready to buy government bonds, which are scheduled to be issued in 2022 to the value of $300 million.
Lim Heng, a president of Lim Heng Group, voiced support for the issuance of the government bonds next year, saying he will purchase the bonds so that the government has sufficient funds for national development.
"We are ready to buy the bonds, but I cannot say how much money I would spend," he said, but did not say how many he would purchase.
Oknha Mong Reththy, chief executive officer of Mong Reththy Group, is also interested in securing government bonds, but said he wants to study carefully before deciding to buy.
"I am interested but do not dare to answer whether I'll buy or not, because I do not know much about it," he said.
According to the draft Financial Management Law 2022, the Cambodian government plans to issue an initial $300 million to finance public investment projects.
Hong Sok Hour, chief executive officer of the Cambodia Securities Exchange, said that the general public also has the right to buy bonds, as the pricing of the securities must be determined according to the issuance conditions.
"Interest-bearing government bonds can be as low as private bonds issued by bond companies," he said. "The term of the state is usually longer, but other financial institutions prefer government securities because state securities are generally the most secure while the state does not go bankrupt."
He stressed that the risk on state bonds was minimal, meaning that the risk could only arise if the state did not have a repayment budget and the client decided to sell early, or there were no buyers at all. Interest rates are also lower than private ones, he reiterated.
The draft Financial Management Law 2022 is the fourth-year budget was organized during the Feb. 20 community outbreak, according to an Oct. 22 statement by Prime Minister Hun Sen.
The draft was approved on Oct. 22 during the plenary session of the Council of Ministers.
The draft allows the Cambodian government to borrow more than $2 billion from foreign sources and development partners for 35 public investment financing projects.
It is so far unclear what projects will be financed through either bonds or yet more foreign debt.
Related Articles