UK Envoy Builds on Cambodia Relationship
PREAH SIHANOUK – The UK and Cambodia have worked closely as friends with no issues for seven decades of being friends, British Ambassador Dominic Williams says.
Britain has helped Cambodia to develop many sectors, including health, education, business, culture, finance and demining, as well as in international forums.
Cambodia also played an important role in supporting the UK as an ASEAN dialogue partner last year, he said.
In this 70th anniversary of diplomatic relations, the ambassador wants to build a friendly relationship with the people, in addition to the government relationship.
In an interview with Cambodianess on Feb. 13, he said, "The UK has had its own distinct relationship with Cambodia. If we look at our relationship today, the UK and Cambodia share a lot of values in common.
"We work closely together on things like the war in Ukraine —where both countries have been very supportive of Ukraine."
In terms of economics, trade between the countries reached more than $977 million in 2022, up 23.9 percent in 2021, while the figure was around $1 billion in 2019, before COVID-19. Britain was the final destination of 4 percent of Cambodia's exports.
"I am really pleased that post-COVID we've got our trade figures back to where they were before COVID-19. That just happened last year. I'm really proud of that and I'd like to see us all maintain that," he said.
Nevertheless, he did not put much stress on the trade figures. He rather wished to deepen the relationship in other sectors of Cambodia's economy such as health, education, business, culture and finance, as well as deepen Cambodian business in Britain.
"If we have those deep trading relationships established, the trade figures will increase naturally."
His intention during his time in Cambodia is to improve the local community by helping them get better-paying jobs, not only in Phnom Penh but also outside the capital.
He wants to see more quality British businesses in cities and beyond.
Potential sectors to attract investors
As Cambodia is focusing on developing sectors such as automotive, and electronic goods and moving up the value chains in agriculture, Britain is also considering exploring opportunities to help Cambodia in those areas and to focus on others, including infrastructure, financial services, agriculture, and especially education.
From his perspective, developing capital markets in Cambodia will help encourage investment for infrastructure and other areas that can help the economy grow, as Cambodia is one of the focused countries for the British Investment Partnership initiative — the UK finance institution supporting development through private sector investments.
With the initiative, Britain can bring development finance, loans, and investments which are all formed into one program to offer for infrastructure development, with technical and expertise in capacity building.
In agriculture, Britain might be able to help with value chain processing. With the Developing Countries Trading Schemes (DCTS) which starts from April this year, more agriculture-related products are expected to be exported to the UK.
"I think the UK certainly has a really strong contribution to making all the things that really help Cambodia succeed in those industries. And, education also is the area where the UK has something to offer," he said.
Education was a focus for the UK in Cambodia for three main reasons: it was critical for the next stage of Cambodia's development in an increasingly competitive global economy; it is good for the trading relationship between the UK and Cambodia's businesses and educational institutions; lastly, it forms a lasting relationship between the UK and Cambodian students studying here or in the UK.
"Cambodia needs the people with the right skills to succeed in that market. English language education is a particular offer because it is the language of technology, science, and business," he said.
"I think the UK education can help Cambodian people with the skills they need for the future economy. For somebody whose job is to build a relationship between the two countries, it is so valuable beyond a big impact on trade."
Future insight into the relationship
The UK is looking forward to working more closely with Cambodia on climate change and big form policy topics, as both countries have an ambitious commitment to around net-zero as well as support for Ukraine.
"One of our key objectives in Cambodia is to support the country maintain its space to have an independent, sovereign foreign policy in place in the world," he said.
"That is the reason why we've been keen to work more closely with ASEAN because we believe in ASEAN's centrality in this region. We're grateful for the support from Cambodia in helping us join as a dialogue partner."
The arrival of the HMS Spey in the Sihanoukville on Feb. 13 for a five-day visit was the first step for the UK and Cambodian royal navies to build on maritime defense engagement and share maritime operations for the first time in 65 years.
Related Articles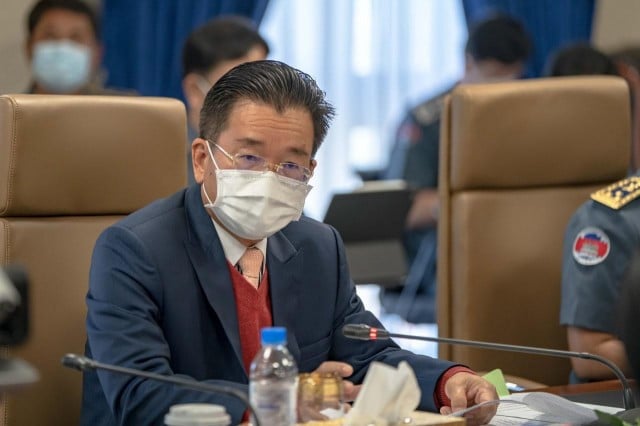 October 15, 2021 11:38 AM