UK Foreign Secretary "Raised Concern" over Cambodia's Human Rights Situation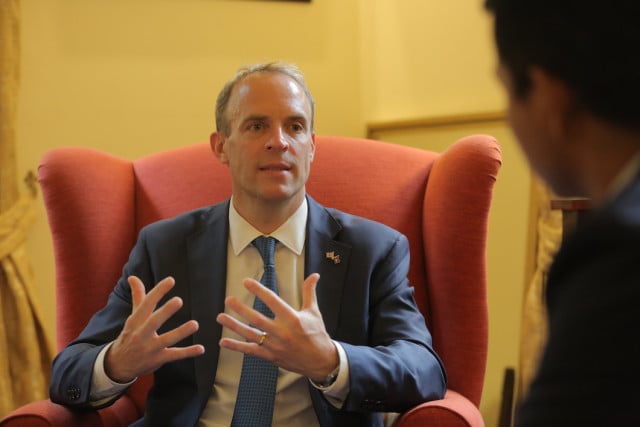 In an exclusive interview, British Foreign Secretary Dominic Raab revealed he discussed Cambodia's poor human rights record—including the recent Mother Nature arrests—with top officials
PHNOM PENH--British Secretary of State for Foreign, Commonwealth and Development Affairs Dominic Raab said he raised concerns over Cambodia's human rights situation during his brief visit that began on June 22 and ended on June 23.
According to Raab, both the Cambodian and British delegates agreed that human rights dialogues would be held, particularly in relation to the recent terrorism charges levelled against activists from the environmental group Mother Nature.
"First of all, we agreed to have human rights dialogue so it is perfectly natural that we will discuss these issues [ongoing restriction of freedoms of expression and press freedoms]," Raab said in an exclusive interview with Cambodianess following his meeting with Cambodian Minister of Foreign Affairs Prak Sokhonn and Minister of Environment Say Samal.
"I also did raise our concern around the recent criminal investigation, detention and prosecution particularly around political opponent Kem Sokha and also around the Mother Nature environmental activists," he added.
Four activists from Mother Nature, including the group's founder Alejandro Gonzalez-Davidson who was deported and barred from re-entering Cambodia in 2015, were charged with plotting and insulting the king the day prior to Raab's arrival, prompting outrage among Cambodian citizens and human rights NGOs.
This followed the sentencing of three separate Mother Nature activists in May 2021 who were convicted on incitement charges widely believed to be a politically motivated response to the group's environmental activism that has shone a light on the corruption that fuels the exploitation of natural resources across Cambodia.
Raab went on to say that he made it clear to the Cambodian officials that the criticism from the opposition as well as the media will be critical for Cambodia's sustainable development.
"We made the argument that actually we recognized that the opposition criticism and media criticism can be painful, but it all contributes to the scrutiny of the government and the improvement of the government itself. And we know that from our experience," he stressed.
Raab himself has previously come under fire from the British press for his revelation that—after fervently supporting the Brexit cause—admitted that he "hadn't quite understood the full extent" of the UK's reliance on the French city of Calais for British trade.
Having tasted public scrutiny from the free press before, Raab went on to reiterate the importance of improving the human rights record in Cambodia, noting that it would be pivotal for both future economic policy development and plans to attract investors.
"We talked about this and we are here to support Cambodia's reforms, and the government is trying to achieve this," Raab continued.
Under the cover of the COVID-19 pandemic, Cambodia's crackdown on human rights defender intensified and the number of arrests, incidents of violence and judicial harassment towards critics of the government spiked sharply between 2019 and 2020.
Still Optimistic for the Future of Cambodia
Even though the human rights record and democratic backsliding remain problematic in Cambodia, Raab said he is still optimistic about Cambodia's future overall, pointing out there are many possible areas for partnership and cooperation.
"Now, I think about the future and the opportunity, the economic trajectory, the warm hospitality from your people and the increasing education of your people. We talked about how can we increase education opportunities both ways and the ability to attract trade and business investments," he said.
In addition to these areas of cooperation, he stressed that "the UK, of course, is strongly committed to keeping talking about difficult issues.
"But on everything from economic growth to climate change to how we tackle not just COVID-19, but also pandemics in the future, we see the good spirit for future collaboration and we think of Cambodia as a good partner," he continued.
With the possibility of good partnership, he continued, it will not only be good for British businesses and British people but also for all young people of Cambodia.
Related Articles