UK Foreign Secretary's Visit to Cambodia Will Focus on Climate and ASEAN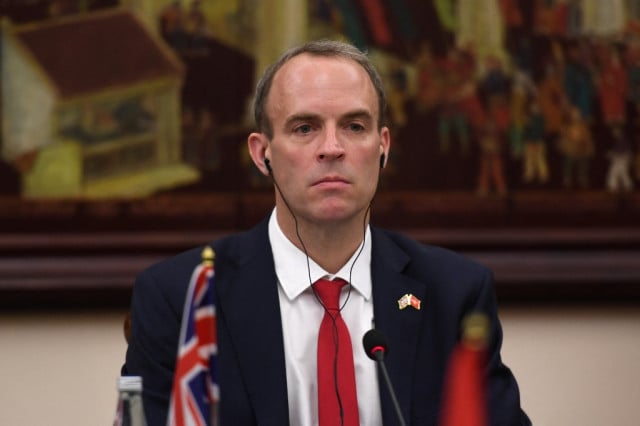 Despite the minor influence the UK has in Southeast Asia, analysts say the visit of Foreign Secretary Dominic Raab is a post-Brexit attempt to establish a stronger regional role, notably on climate issues
PHNOM PENH--United Kingdom Foreign Secretary Dominic Raab is set to pay an official visit to Cambodia on June 23 in an effort to promote action on the climate crisis and tout the UK's post-Brexit "Global Britain" image.
Secretary of State for Foreign, Commonwealth and Development Affairs Dominic Raab will pay an official visit to Cambodia on June 23 at the invitation of Cambodian Deputy Prime Minister and Minister of Foreign Affairs Prak Sokhonn, according to a press statement issued on June 21.
During his visit, Raab will hold a bilateral meeting with Sokhon during which they will discuss the countries' bilateral relations as well as regional and international issues of common interest and concern.
The visit by UK foreign secretary, the statement continued, will contribute to further promoting and strengthening bilateral relations between the two countries as well as representing another step forward in multilateral cooperation within the ASEAN framework.
Following his bilateral talks with Sokhon, Raab is also scheduled to meet with Environment Minister Say Samal.
Raab was initially set to pay a courtesy call on Prime Minister Hun Sen on June 23, but the meeting schedule was cancelled on Saturday (June 19) as the prime minister announced that he had to isolate himself after being indirectly exposed to COVID-19.
Climate Change and Cambodia's ASEAN Chairmanship 2022
Raab's visit to Cambodia will come as the UK is set to host the 26th United Nations Climate Change Conference (COP26) in November 2021. And more importantly, his visit also takes place just around six months before Cambodia takes the helm of the chairmanship of the Association of Southeast Asian Nations (ASEAN) which is scheduled for 2022.
It has been argued that the visit is a part of the UK's broader efforts to push for more climate action and to seek further commitment from Southeast Asian countries. Meanwhile, the major power is also said to be keen to foster ties with the regional grouping in particular and promoting its role in the region in general.
Po Sovinda, a PhD scholar at Griffith University in Australia, agreed that in the post-Brexit time, the UK has been working on new strategy to transform itself to be a global power in Asia, becoming more active in the spheres of environment and economies as well as security issues globally.
For Cambodia in particular, Sovinda continued, the visit from such a high-ranking UK official also highlights the UK's aim to promote climate action as well as renewables.
"This visit can indicate that the UK wants other countries including Cambodia to focus more on climate change and clean energy. It wants to push forward this agenda not only in Cambodia but also in the region as Cambodia is going to chair ASEAN next year," Sovinda said.

By chairing ASEAN, the expert stressed, Cambodia has the authority to set the agenda for broader discussions among member states when it comes to climate action and energy transition. Therefore, he added, it could bring more benefits for the region as well as to the UK itself.
However, Sovinda still doubts whether Cambodia is willing to focus on the climate actions or clean energy issue when it chairs the regional group next year.
"I could not know to what extent Cambodia is willing to raise these issues for active discussion as the ASEAN chair as Cambodia doesn't see much benefit from that. And moreover the UK does not have much influence in Cambodia," Sovinda stressed.
Strengthening Bilateral Relations
In addition to promoting climate action and clean energy, the UK has also been seeking to boost ties with the Southeast Asian region. One of the UK's top priorities is it has a strong desire to be admitted as the ASEAN dialogue partner. This requires more support from ASEAN members.
For Sovinda, building close relations with the UK can bring Cambodia some benefits ranging from economic to security, but these will be limited given that the UK's role in the region remains insignificant.
"Even though the UK itself doesn't show much interest in Cambodia, there are many advantages Cambodia stands to gain from these good relations," Sovinda explained, pointing out that economically speaking, Cambodia still can export more products to the UK under its Generalized Scheme of Preferences (GSP). This is one of the few benefits of Brexit that Cambodia can enjoy after having its access to the European Union's Everything But Arms partially revoked due to labor and human rights abuses.
According to the Ministry of Commerce's report, trade volume between the two reached $813.22 million in the first 11 months of 2020, a drop of 17.61 percent compared to the same period in 2019 that has largely been accredited to the COVID-19 pandemic.
With regards to diplomatic and political dimensions, Sovinda explained that the relations between Cambodia and the UK have not faced many challenges as this major power's foreign policy doesn't mainly center on democracy and human rights as that of Germany, Sweden or the United States does.
"With this stance, it appears that the diplomatic ties between the two countries can develop smoothly," he continued.
In terms of security and military aspects, Sovinda noticed as the UK has no bigger security role so far in the region, Cambodia could not gain much from it.
Cambodia and the UK established official diplomatic relations in 1953 after the Southeast Asian country gained independence from France.
Related Articles