UN: a Virtual General Assembly for a Multilateralism at Half-Mast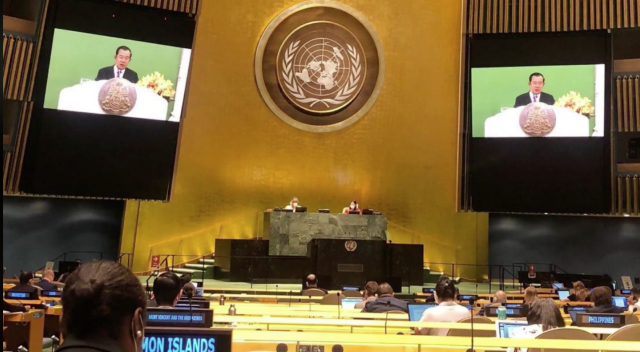 Cambodianess
September 28, 2020 2:47 AM
Maybe it might have been preferable to postpone the 75th Session of the General Assembly of the United Nations now taking place in New York City rather than showing this twilit image of a nearly-empty large room in which only people wearing masks are sitting.
While heads of states and governments usually take turn at the podium, regardless of their political persuasion or the conflicts that oppose them, while leaders attempt to discretely resolve open or latent wars through direct contacts in the corridors, this General Assembly is in virtual mode and will only be an endless succession of prerecorded video messages.
It's as if the COVID-19 pandemic—which has wreaked health, social and economic havoc on the planet and calls for a worldwide, joint and coordinated response—had come to attempt to cause the demise of multilateralism advocated by the United Nations for 75 years.
Finding joint solutions to shared problems, putting an end or contain hotbeds of war and conflicts wherever they are or whoever the players are in order to maintain peace, support development throughout the world as poverty generates scourges that could not care less about borders, and so on: All these UN missions are today in jeopardy due to the rise of populism and nationalism.
Who cares about humanity's common values, one hears people say more and more loudly.
So, Asian and Westerners would not have the same concept of people's fundamental rights. So Islam would not be compatible with western values that are, according to some people, fundamentally Christian. And so on.
Finally, the more this dividing discourse grows in strength, the more room autocrats have to thrive.
Founded at the end of World War II so that dialogue between nations and people would get louder than guns, the United Nations shows at 75 years old a declining health and its voice carries less weight.
Like an old lady who would have been gagged.
Related Articles