UN Experts Alarmed by Cambodia's "Concerted Attempt" to Erode Civil Society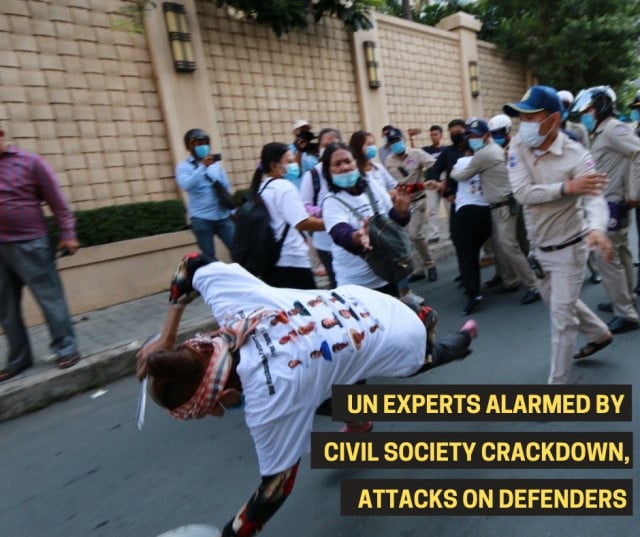 Phoung Vantha and Gerald Flynn
November 17, 2020 2:48 AM
Calling Cambodia's latest crackdown "a pattern of detention," UN experts clashed with the government over the arrests of human rights defenders, but analysts warn that real change requires more than strongly-worded statements.
PHNOM PENH--UN human rights experts on Nov. 16 called for an immediate end to the systemic detention and criminalization of human rights defenders in Cambodia, as well as the excessive force that they said has been employed by Cambodian authorities.
This comes after a string of arrests have been made over the course of the year, with activists, artists, environmentalists, human rights defenders, monks and opposition party supporters being detained, harassed, attacked and intimidated.
"I am alarmed by credible reports that at least 21 human rights defenders have been subjected to threats, arbitrary arrests and detentions in the past three months," said Mary Lawlor, the UN Special Rapporteur on the situation of human rights defenders.
Prompted by videos depicting security forces employing excessive force against peaceful protesters—notably against women—Lawlor stated that the "Promotion and protection of human rights through peaceful means is not a crime."
Lawlor's statement, which was endorsed by a string of human rights experts, spoke of a cyclical nature to Cambodia's latest crackdown on free speech, with many activists being detained while protesting the detention of other activists. Notably, the arrest of unionist and activist Rong Chhun on July 31 and the Phnom Penh Municipal Court's Aug. 1 decision to charge Chhun with incitement led to a number of peaceful protests.
These protests then became the focus of Cambodian authorities, who set about arresting leaders—many of whom were then charged with incitement themselves.
"Human rights defenders should never be criminalized for their courageous efforts to protect the rights of others," said Lawlor. "I am increasingly concerned by the circular pattern of detaining them for advocating against the detention of or violations against fellow defenders. This cycle must end."
The expansion of the authorities' scope beyond harassing protesters became apparent on Oct. 23—the 29th anniversary of the Paris Peace Agreement—where Cambodian security forces attempted to intimidate journalists and human rights observers who were monitoring protests across Phnom Penh.
"There seems to be no limit to who the authorities will target, making their actions in recent months appear as a concerted attempt to erode civic space and stifle the work of human rights defenders," said Lawlor.
Government Denies Persecuting Human Rights Defenders
Government spokesperson Phay Siphan declined to comment on the UN's concerns, instead directing enquiries to Justice Ministry Spokesperson Chin Malin.
Malin, who also serves as spokesperson for the Cambodian Human Rights Committee, hit back at the UN's experts, claiming that their statement was one-sided.
"The government and the authorities did not persecute human rights defenders, it only took legal action against perpetrators, which proceeded through judicial proceedings based on the principles of democracy and the rule of law," Malin said in a telephone interview, adding that law-breakers are not human rights defenders in his opinion.
"It's not important if they are human rights defenders or not if they break the law, they have to face the consequences in accordance with the law," he said.
Malin went on to say that the UN's statement failed to define the term "human rights defender" or provide criteria for classifying people as human rights defenders. He then claimed that protesters who had been arrested had been hired by an organization intent on causing unrest in Cambodia, but did not name the organization.
"Cambodian authorities have solid evidence of the organization's plans and orders, along with financial support and other forms of support with the aim of causing social unrest and insecurity," he said, but did not explain what evidence he was referring to.
Echoing sentiments of previous responses to concerns voiced by UN human rights experts, Malin reiterated that he felt the UN was not seeing the whole picture and lacked an in-depth legal analysis of the protesters' actions—actions he deemed to contradict Cambodian law.
"The authorities have evidence which confirmed those [protesters'] actions could cause illegal action," he said, but again declined to comment on the nature of the evidence.
When asked if the government's latest crackdown on activists was contributing to the overcrowding of Cambodia's prisons—which currently house roughly 40,000 people in facilities designed to contain no more than 26,593—Malin noted that the government was trying speed up the rate at which it processed trials.
He added that this does not mean the government would be freeing anyone who committed illegal actions though.
He said that authorities have a duty to prevent illegal acts, but has no intent to threaten people and those members of security forces who were found to have used excessive force received administrative punishments. He could not say how many security officials had been punished for their use of force against protesters.
UN Special Rapporteurs Once Again Clash with Cambodia's UN Representative
However, UN experts remain unconvinced by the government's continued denial of persecuting human rights defenders and Rhona Smith—UN Special Rapporteur on the situation of human rights in Cambodia—expressed her fears for the future of the country.
"I am seriously concerned that the impact on civil society will be lasting and urge the authorities to end this harmful approach to human rights defenders and facilitate freedom of expression and assembly, for the benefit of all members of society in Cambodia," said Smith.
Earlier this year, Smith warned of the consequences for Cambodia's development if authorities continue to bring about a shrinking of civic and democratic space, the excessive force used by security forces and the climate of self-censorship that government policies have brought about.
While typically, Smith has found herself sparring with Cambodia's permanent mission to the UN in Geneva, An Sokkhoeurn, the Nov. 16 statement has seen Sokkhoeurn train his criticisms on Lawlor rather than Smith.
In a response to the UN experts' concerns also dated Nov. 16, Sokkhoeurn repeated retorts he has previously utilized against Smith and, claiming once again that the Special Rapporteurs' statement is one-sided, that freedoms come with responsibilities and that Cambodia reserves the right to define its own crimes.
"The Permanent Mission of Cambodia would like to remind the Special Rapporteur that an affiliation with a political party or an NGO does not entitle a person to break the law with impunity," Sokkhoeurn's statement read. "A law-prescribed crime is a crime, and it cannot be justified for any aspirations."
More Action Needed to Protect Human Rights
The apparent inability of the government to work with the UN and other civil society actors has led human rights groups to call for greater action from the international community.
"It is hopeful that a number of UN Special Rapporteurs and working groups have just released a joint statement denouncing the harassment, arrest and imprisonment of Cambodian human rights defenders, but more must be done by the international community to ensure the immediate and unconditional release of these activists and for the government to end the harassment of civil society and political activists," said Naly Pilorge, director of LICADHO—an NGO focused on the protection of human rights in Cambodia.
LICADHO documented 19 arrests of human rights defenders and activists between July 31 and Sept. 10, stating that these individuals had lost their freedom while exercising fundamental rights.
"The European Union [EU] needs to raise the dire human rights situation during their dialogue with high level Cambodian government officials in Brussels on Nov. 27," Pilorge added.
Earlier this year, the EU took decisive action against Cambodia over human and labor rights abuses. In August 2020, the European Commission opted to partially withdraw trade privileges Cambodia had enjoyed following an 18-month assessment of the government's respect for human rights.
Also calling for greater involvement from both the UN and the international community, Phil Robertson—deputy director of Human Rights Watch's Asia division—noted that any concessions on rights in Cambodia will come from the top and influencing Prime Minister Hun Sen's approach to human rights required a consistent level of multilateral pressure.
"Previously, the UN Special Rapporteur on rights in Cambodia played a critical catalyst role in this coalition, but with Rhona Smith, we had the worst [Special Rapporteur] in the history of the mandate," complained Robertson, adding that he felt Smith was over her head and unwilling to admit it.
"Of course, the rise of Trump and the anti-human rights populists on the world stage, breaking apart the international coalition on human rights, didn't help matters at all," he added, citing a lack of US engagement in Cambodia and the ongoing COVID-19 pandemic as key reasons for the slew of activists who have been arrested this year.
Latest Crackdown "Not a One-off"
Robertson went to on to argue that Hun Sen has, since 2018, been unencumbered by the checks and balances of a parliamentary opposition following the 2017 dissolution of the Cambodia National Rescue Party. After winning all 125 seats in the National Assembly in the 2018 elections, Hun Sen has "been lining up his opponents like dominoes," Robertson said.
"In the process, he's attacked and marginalized Trump and the US, fractured the ranks of the like-minded countries that should be standing up for human rights rather than hanging back, and intimidated the UN Country Team and, surprisingly, a UN Special Rapporteur," he added, warning that exiled political opponents and online freedoms would be the next "dominoes" to fall.
Comparing the response of Sokkhoeurn and other government officials to the former US Counselor to the President Kellyanne Conway's "alternative facts" quote from 2017, Robertson said that Cambodia's government had gone further, constructing an alternative reality through the consistent denial of facts.
Between a complete control of the legislative, judicial and executive branches of government and the full weight of China's diplomatic and economic support behind it, Cambodia's government is ratcheting up the pressure on critics of all stripes, Robertson warned.
"It's not a one-off, or a cyclical crackdown," he said. "But rather a step in a deadly, planned process of cementing a rights-abusing dictatorship in place."
Related Articles