UN Experts Question NagaWorld Arrests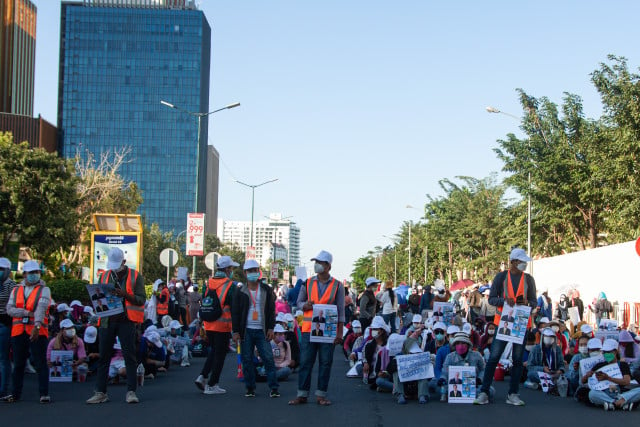 Human rights laws may be broken
PHNOM PENH--The arrest and detention of at least 29 NagaWorld casino union leaders and activists during a strike that began on New Year's Eve may amount to a breach of human rights law, UN experts said on Jan.5.
"Many of the arrests of the mostly women strikers were conducted in a violent way and appear to contravene the freedoms of association, assembly and expression," the independent human rights experts said on Wednesday.
Authorities' actions against the strikers were also condemned by Phil Robertson, deputy Asia director of Human Rights Watch, who called for their release.
The UN experts called on the Government to explain the response by the police, and said they were following developments closely.
Nine people –seven women and two men –have been charged with 'incitement to commit a felony' under Articles 494 and 495 of the Cambodian Penal Code and remain in custody while the others have been released. These same provisions have previously been used to prosecute human rights defenders.
The arrests of the nine took place at around 8pm on Dec. 31. Continued strikes resulted in another 17 arrests on Jan. 3 while the three most senior union leaders, including its president Chhim Sithar, were arrested on Jan. 4 on their way to join the strike. Video footage shows police using what appears to be an excessive force during the arrests.
On Jan.5, the Phnom Penh Municipal Court ruled that Chhim Sitha, LRSU president and Sok Narith, LRSU member remain in custody.
Ministry of Justice spokesman Chin Malin could not be reached for comment on Jan. 6.
Trade union leaders and activists have been striking since December 18 against what they deem as the unfair dismissal of 365 NagaWorld casino and resort staff, following unsuccessful negotiations with their employer, the Ministry of Labour and Vocational Training and Phnom Penh municipal authorities.
"The pattern and manner of these arrests, after industrial action failed to be resolved quickly, appears to be an escalation in tactics used in previous cases that have occurred in Cambodia over recent years and resulted in the wrongful imprisonment of human rights defenders," the experts said.
The UN Special Rapporteur on the situation of human rights in Cambodia Professor Vitit Muntarbhorn has previously spoken out on the shrinking of civic and political space in the country.
"The latest charges and arrests are of particular concern as the country gears up for commune elections this year, followed by national elections the year after. This sends a chilling message to Cambodian people on their space to assemble freely," the experts said, urging officials to uphold their commitments to international human rights and domestic law and provide full transparency in the proceedings of these cases.
The experts once again called on the Government to implement recommendations accepted during the 2019 Universal Periodic Review. which include a pledge to create conditions where "civil society, including human rights defenders, can freely carry out their work without interference or hindrance".
Robertson said the intolerance of the strike presents a scary picture of how Cambodia treats workers peacefully exercising their rights to freedom of expression, assembly, and association. During the past two weeks, these workers have done nothing they should face criminal charges for.
"Cambodia should immediately and unconditionally release all arrested union leaders and members and drop the bogus charges against them."
He said plainclothes police officers' violent attack and detention of Chhim Sithar after she left her car near the workers picket line, was despicable and unacceptable.
It should be sharply condemned by foreign governments, the International Labor Organization (ILO), the UN country team in Cambodia, and international donor agencies, Robertson said.
In their unnecessary manhandling of Chhim Sithar, the authorities showed blatant disregard for her rights in what is a clear effort to intimidate and demoralize other union members still on the picket line in Phnom Penh.
He said that instead of using bully tactics to silence union members and labor rights activists, the authorities should support workers' rights to collective bargaining with NagaWorld, and demand that all parties bargain in good faith to reach a settlement.
The ILO should be publicly raising concerns about the blatant violations of trade union rights by the Cambodian government harassment and repression of the Labor Rights Supported Union of Khmer Employees of NagaWorld (LRSU), and the failure of NagaWorld to bargain in good faith with its workers. Foreign governments, the UN country team in Cambodia and donors should publicly press the authorities to respect human and labor rights.
NGO CIVICUS also so sent an open letter to Labor Minister Ith Sam Heng about its concern over the crackdown on the activists.
It called for the charges to be dropped and for their immediate and unconditional release without further reprisals. It sought an end to harassment of the LRSU and for respect and protection of its right to freedom of expression and peaceful protest.
A safe and enabling environment should be created for activists, human rights defenders and other members of civil society to peacefully exercise their civic freedoms without intimidation, harassment, arrest or prosecution, CIVICUS added.
Related Articles