UN Inquiry Condemns Cambodian Rights Abuses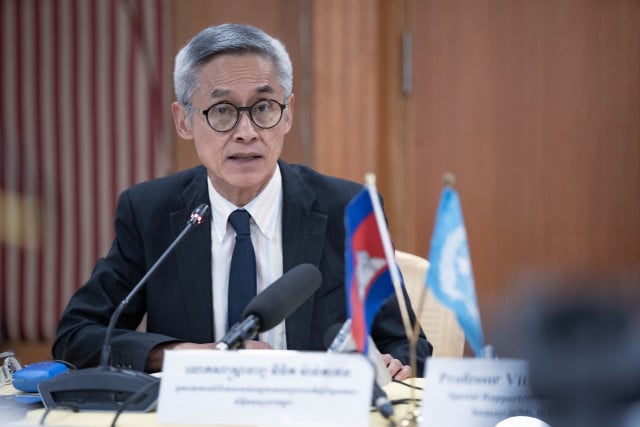 PHNOM PENH – A United Nations investigator has delivered a highly critical assessment of human rights in Cambodia and urged the government to create the conditions for free national elections in 2023.
Professor Vitit Muntarbhorn, Special Rapporteur on the situation of human rights in Cambodia, spoke after an eleven-day visit to Cambodia during which he spoke to Prime Minister Hun Sen, other government officials, civil society members and other stakeholders.
However his report sparked an angry reaction from the Cambodian government, which called it biased, prejudiced and unfounded on a number of issues.
Vitit outlined his conclusions on Aug. 26, touching on land issues, human trafficking, and the NagaWorld dispute in addition to the exiling and jailing of opposition politicians and the banning of the Cambodian National Rescue Party.
In one key recommendation, he said, "End prosecution of the political opposition and human rights defenders and related personnel. Please release them and drop the charges against them."
In his assessment he said, "Since 2017, when the main opposition party was unjustly disbanded by judicial order, the country has been under single-party rule, with all seats of the National Assembly in the hands of that monopoly.
"This has led to systemic control by the powers that be, leading to political and other distortions undermining the call for a pluralistic democracy.
"While the most recent commune elections in 2022 saw some seats being shared by various parties, that predominantly singular rule still shapes the spectrum of politics to the advantage of the entrenched elite."
He said the stultification of political and democratic space contravened the promises made by all parties to Cambodia's Peace Accords. There was a need to redress the balance, especially in view of intergenerational changes.
With next year's elections approaching, the country faced a challenge to open up that space and there were steps which could be taken.
"While waiting for reform of the National Election Committee (NEC) to be more pluralistic, there should be broader recruitment of election-related personnel at all levels from political parties and to ensure their impartiality," he said.
Profession Vitit addressed complaints of intimidation and name-taking of voters at the commune elections.
"Local authorities should not be present near polling stations," he said. "Only key personnel should be near the polling booth.
"There is a need for a law to expose campaign finance. Most importantly, there should be an atmosphere that shuns intimidation and harassment of opposition parties and commentators."
He said negative incidents were evident in the run-up to the commune elections, including the delisting of several candidates under questionable circumstances.
"There is also the anomaly of various prosecutions of those who question the election results. Independent observers are needed to monitor the next elections, while observers close to political parties should only have limited access.
"This must be complemented by more breathing space to enjoy freedom of expression, freedom of peaceful assembly and other rights in keeping with international standards in the pre-vote, vote and post-vote phases."
He spoke also of mass trials of opposition members which took place even during his visit.
"Key leaders of the opposition, who had been charged and convicted on multiple occasions, were/are still subject to further prosecutions of alleged offences of a political nature which are seen as spurious internationally."
His remarks followed the conviction in June of 51 opposition politicians and activists. Twelve were jailed for eight years and 19 were jailed for six years, though many of the defendants were tried in absentia.
Professor Vitit praised the government for the level of access he had been given and said he had visited detention facilities but declined to comment on conversations with individuals.
He said also that he had visited a peaceful demonstration by NagaWorld strikers.
"The authorities stood nearby with tolerance, despite regrettable use of force against the strikers on earlier occasions," he said.
Groups he met included women human rights defenders, environment defenders, NGO members, trade unions, media groups, farmers' groups and youth/child groups.
Many voiced concern about shrinking civic and political space. Several had been jailed and criminal charges hung over others.
"Meanwhile, a variety of laws constrain the work of the media. In addition to the criminal law provisions, there are also Telecom-related laws and the Single Internet Gateway decree which need abrogation.
"The latter opens the door to much surveillance which encroaches upon not only freedom of expression but privacy and a sense of security among media and other personnel."
He said the issue of online scammers luring people from other countries and holding them prisoner in walled compounds had been highly publicised during his trip.
"Countries are now waking up to the phenomenon and Cambodia needs to activate its counter-measures more strongly," Professor Vitit said.
"There is a need for specific law enforcement units that have the wherewithal and drive to act effectively, particularly to inspect opaque compounds and investigate their operations."
A spokesman for the Ministry of Foreign Affairs and International Cooperation expressed utter dismay at the Special Rapporteur's assessment. The fact that the Special Rapporteur met a variety of stakeholders, including government critics, showed that the Kingdom tolerated free scrutiny and opposing view.
The spokesman accused the Special Rapporteur of selecting to chose to interact with certain opposition parties while discriminating against many others.
"His end-of-mission statement made no mention of the factual and legal accounts the government had offered vis-à-vis the unfounded allegations," the spokesman said.
The grievance over single-party rule was unsubstantiated. Voters had democratically selected the ruling party to continue to maintain peace, political stability and sustainable development despite a call for an electoral boycott by the group wanting an undemocratic change.
The spokesman said the demand for a more pluralist NEC was unfounded. Its members were apolitical and constitutional except for those who had resigned to satisfy the disbanded political party nominating them.
It was a matter of deep regret that the Special Rapporteur continued to fail to address a worrying trend of human rights challenges that Cambodia faces, namely hate speech, slander, disinformation, incitement of xenophobia and provocation to sedition under the guise of freedom of expression.
"Cambodia remains resolute in the continued work with all partners to promote and protect human rights for all within the rule of law, and in pursuing its irreversible democratic journey with pluralism, including the elections next year, in a free, fair, orderly peaceful and transparent manner," the spokesman said.
The request for stronger counter-measures against online scams and human trafficking had been handled long ago. In the past eight months, at least 890 people had been arrested and 89 suspects prosecuted.
Related Articles