Understanding the History of Cambodian-Thai Relations to Avoid Conflict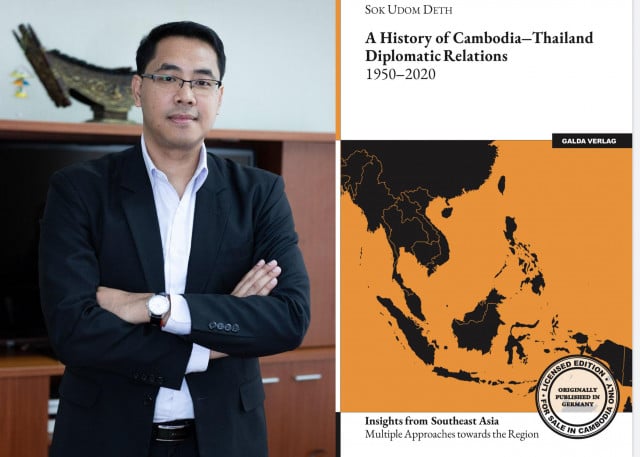 Sao Phal Niseiy
October 13, 2020 6:55 AM
Sharing insights from his new book, "The History of Cambodia-Thailand Diplomatic Relations from 1950 to 2020", associate professor of International Relations and Rector of Paragon International University Deth Sok Udam sheds light on how the relationship between the neighboring countries has evolved.
Sao Phal Niseiy: Weighing in at 231 pages, you have covered the history of Cambodia and Thailand's diplomatic relations extensively, could you tell us what it covers in a nutshell?
Deth Sok Udom: This book is actually a revised and updated version of my doctoral dissertation on Cambodian-Thai diplomatic relations, completed in 2014. As the current title suggests, the book also covers recent developments during the past six years, since the coup that ousted Yingluck's government in May 2014.
This book aims to provide an analysis of Cambodia-Thailand diplomatic relations over the past seven decades, specifically from 1950 to 2020. While other academic publications have focused on particular aspects of Cambodian-Thai relations—notably the border conflicts or the cultural ties—this book is the first to cover a comprehensive history of diplomatic relations between the two countries starting from the establishment of official diplomatic ties in 1950 to the present.
Sao Phal Niseiy: This book is a product of your 10 year-long writing and research on the ties between the two neighboring countries with a long history of love-hate relationships. What do you think is the most significant part of your new book?
Deth Sok Udom: In addition to empirical discussion, the book seeks to explain why Cambodian- Thai relationships have fluctuated and what primary factors caused the shifts during the period discussed.
In doing so, it employs the "social conflict" analysis, which views states not as unitary actors, but within which are comprised of different societal forces competing with one another and pursues foreign policies in accordance with their own ideology, interest, and strategy.
As such, it is postulated that Cambodia-Thailand diplomatic relations should not be seen simply as relations between two unitary states cooperating with or securitizing against one another, but rather as a matrix of intertwining relationships between various social and political groups in both states harboring competing ideologies and/or interests to advance their power positions at home.
Sao Phal Niseiy: Given the book's title and scope of focus, why start from 1950? Is the time frame related to any special event you wanted to emphasize on?
Deth Sok Udom: The rationale for choosing to cover the period 1950–2020 stems from the fact that Thailand was the first country to recognize Cambodia as an autonomous state within the French Indochinese Union in 1950. In other words, 1950 marked the beginning of mutual recognition between Thailand and Cambodia as states amidst the decolonizing process in the region.
Sao Phal Niseiy: As the author, how do you think this book will contribute to academic field and foreign policy formulation?
Deth Sok Udom: Although other academic studies have examined Cambodia–Thailand diplomatic relations, they tended to focus on specific conflicts like the anti-Thai riots in 2003 or the Preah Vihear conflict or on one regime only, such as relations during the Khmer Rouge regime, but not across the time span focused in this research.
Accordingly, this book is the first major attempt to present a comprehensive empirical study of Cambodia-Thailand relations since the post-World War II period to the present by incorporating past and recent scholarships on Cambodian-Thai foreign affairs. It also offers an alternative and, I would argue, more useful theoretical framework for analyzing Cambodian–Thai relations. As such, it is also hoped that this book contributes further as a case study to the broader scholarships on border conflict studies, nationalism in international relations, and foreign policy analysis.
In the policy arena, understanding our own and the other side's histories help us look at things relatively more objectively. Hopefully, lessons from the past—good and bad—would discourage enmity and instead foster cooperation between the two countries. At the end of the day, conflicts only breed further conflicts and losses on both sides. Peaceful cooperation, on the other hand, brings about development and prosperity for all.
Sao Phal Niseiy: I believe many are interested in it. Then, where can we find the book after it is published?
Deth Sok Udom: Interested buyers can contact the following numbers to pre-order / purchase the book via Abiz Vdo via the following numbers: 092 78 07 07 and 085 320 320.
Through negotiation, I believe we will also have copies available for sale at Monument Books Store later.
Sao Phal Niseiy: Last but not least, this is more about your personal plan. So, what next for you after this book is released?
Deth Sok Udom: I have always wanted to publish a book on A Brief History of the Modern World – in Khmer language. Maybe I will start working on that if time permits.
Related Articles