UNDP and Japanese Embassy Launch Project to Tackle Plastic Waste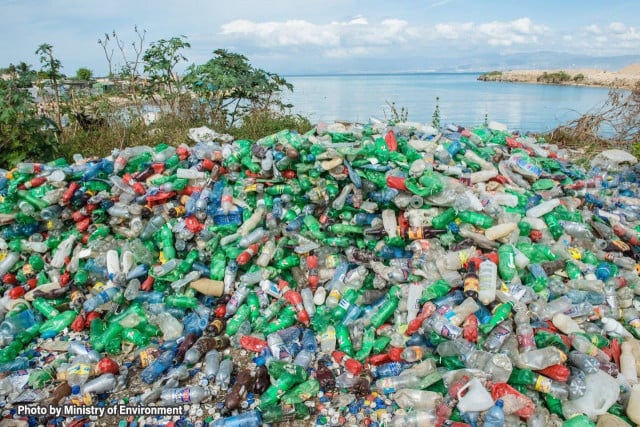 Phoung Vantha
November 30, 2020 10:19 AM
Together with the Ministry of Environment, the UNDP's project aims to promote the 4Rs—Refuse, Reduce, Reuse and Recycle.
PHNOM PENH--In a bid to tackle Cambodia's rising plastic waste problem, the United Nations Development Programme (UNDP), the Japanese Embassy in Phnom Penh and the Ministry of Environment on Nov. 25 launched a new project that will begin in January 2021.
The UNDP's project, Combating Marin Plastic Litter, aims to further develop regulations on plastic waste that will help to raise awareness, reduce plastic waste and promote not only recycling, but plastic waste minimization. This project will target major cities across coastal provinces and major cities including Siem Reap City, Sihanoukville, Phnom Penh, Kep, Kampot and Koh Kong.
The UNDP went on to say that the project will run for 2.5 years to prevent Cambodia's plastic waste from reaching the oceans—in doing so it will promote the 4Rs; Refuse, Reduce, Reuse and Recycle.
Nick Beresford, Cambodia's UNDP resident representative, said that the biggest challenge is the high consumption of single-use plastic items such as bottles and food packaging. These are thrown away after one use only and rarely if ever recycled, he warned.
"Effective reduction of single-use plastic and promotion of recycling will require action from everyone," said Beresford. "The government has a pivotal role in introducing and implementing regulations on single-use plastic and promoting alternatives."
He called on major industries reliant on single-use plastic to create products that are easily recyclable and actively support recycling.
"We all need to cut down our use of single-use plastic and adopt sustainable alternatives," added Beresford. "Plastic waste needs to be sorted from other waste to enable us to reuse, recycling or use in energy recovery."
On Nov. 25 Japanese Ambassador Mikami Masahiro and Beresford signed a $3 million grant agreement, with Cambodia's Environment Minister Say Samal observing.
Ambassador Mikami said that the grant will be used to promote and support the effective cycle of manufacture, management, consumption, and disposal of plastic in Cambodia.
"We believe this grant can contribute to the Cambodian city's living environment and help prevent additional marine plastic pollution in the future," he said.
According to the Ministry of Environment, Cambodia produces about 4 million tons of waste annually. Of this, some 65 percent is organic waste, while plastic makes up 20 percent—the rest is solid waste and other waste. Of that amount, only about 51 percent was dumped at the landfill, 49 percent was dumped on the streets, in water sources, and some burned.
Related Articles