UNDP Declares Battambang Model City for Waste Management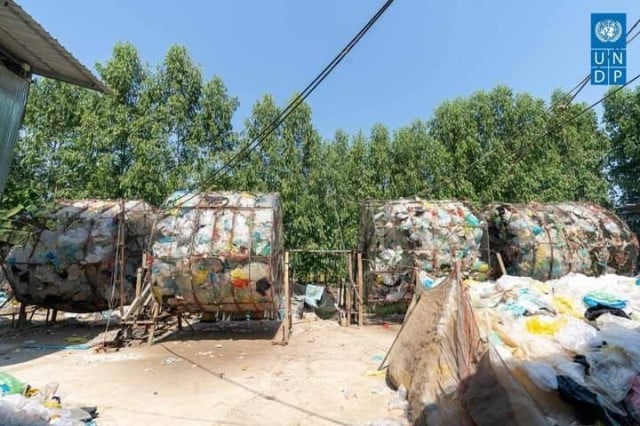 Lay Sopheavatey and Thien Phearin
March 16, 2021 11:42 AM
While authorities have provided a helping hand, it's community-led organizations that have helped to clean up Battambang City's streets, from processing organic waste to cleaning out the Sangke River.

PHNOM PENH--Battambang Province was, earlier this year, accredited by the United Nations Development Program (UNDP) in Cambodia as a model city for waste treatment based on the techniques of recycling bio-waste into compost and reprocessing plastic for reuse.
UNDP's Resident Representative in Cambodia, Nick Beresford said that the initiative of garbage management, especially the reprocessing of kitchen waste and used plastic in Battambang City is a good model for other cities and provinces to follow.
"The cities and provinces can exercise and copy the initiative to convert into compost and recycled plastic for reuse as a part of the contribution to reducing the waste," Beresford said.
He said that the success of Battambang province has been achieved through the close cooperation and mutual support provided by partner organizations, recycling, volunteers, the general public and the authorities.
The UNDP has since run two projects to support other provinces and cities across Cambodia to help them organize their waste management systems.
Kep Province is the site of the UNDP's Building an Enabling Environment for Sustainable Development project, which takes aim the coastal province's problem of organic waste, which is to be composted, and plastic waste which the UNDP aims to help recycle and reuse, much like in Battambang City.
In addition, the UNDP has launched plastic bag reduction projects in Preah Sihanouk and Siem Reap provinces, as well as in Phnom Penh.
But the UNDP's efforts require the support of provincial authorities, who ultimately are responsible for informing the public and managing the waste generated.
Director of Battambang Provincial Environment Department Kort Boran said that for the past three years, local authorities have been focused on education, having recognized that this is a key element when bringing about behavioral change.
"The waste management team is sometimes deployed to clean any spot where garbage is discarded," explained Boran. "But the team also instructs sellers and citizens to separate their garbage to make recycling possible. Every month, the authorities are also deployed to educate people."
Boran said that authorities in Battambang have also worked with businesses and organizations to ensure their participation in the new waste management system.
Waste Recycling Works in Battambang
Currently, at least two organizations and a firm located in Battambang province are making significant, city-wide gains in the fight against waste.
Cambodian Education and Waste Management Organization (COMPED), which has been provided with 800 square meters of land for 15 years by the authorities, has been recycling organic waste into compost since 2009.
Sam Phalla, deputy director of COMPED, said that the purpose of the organization is to collect organic waste in Battambang City and protect the environment from pollution and the dangers of untreated waste.
"I have seen plenty of bio-waste is decomposing [in Battambang City], it's around 65 percent of [the city's] waste, so if we don't reprocess it, the waste will just be dumped in the garbage field and lead to be sewage. Then, the wastewater and garbage will produce methane which pollutes the atmosphere, contributing to greenhouse gases and climate change," Phalla explained.
"This is why our organization's purpose is to recycle all of the organic waste in the city, turning it into compost in order to reduce the negative impact it could have on the environment," added Phalla.
On reprocessing works, COMPED currently has the capacity to collect kitchen waste of around 5 to 7 tons per day for recycling. The output of reprocessing per month ranges from 3 to 4 tons of compost, but this is somewhat determined by the weather.
According to Phalla, the compost can be sold at $120 per ton. However, there have many challenges in reprocessing as it is very difficult to separate organic and plastic waste.
It's precisely this plastic waste that One Earth One Ocean (OEOO), a Battambang-based organization, aims to eradicate from the province's Sangke River for the past three years.
Mobilizing volunteers, OEOO has run repeated campaigns to clean up the river and its banks, and plastic remains by far the most commonly discarded item they find.
The purpose of the organization is to promote understanding among people on the garbage and disseminate information on the harmful effects of unmanaged waste. In the three years OEOO has been operating, they've seen a drop in the volume of waste dumped in the Sangke River—down to 150 kilograms per day, but it was reportedly as much as 250 kilograms when OEOO began.
Seang Bophaphal, a volunteer with OEOO, said that she regularly joins trash collection campaigns every Monday and Friday.
"Collecting trash from water sources is important for reducing water pollution and maintaining the beauty," she said. "We know trash doesn't only create harmful impacts on soil and water but also damages biodiversity."
Bophaphal added that besides removing trash from waterways, OEOO has also been running a pilot project raising awareness on solid waste management in Battambang City's Prek Preah Sdach Commune—a project that she hopes will be expanded up to another six communes throughout the city.
Regarding the city's waste management, Souern Bunrith, deputy governor of Battambang province, said that he recognizes that both COMPED and OEOO are playing a crucial role in tackling the waste problem in the city.
Besides the aforementioned organizations, the Asian Development Bank (ADB) and the World Bank also contributed to awareness-raising campaigns on the garbage disposal.
Bunrith said that, besides being recognized by the UNDP, Battambang's achievements in waste management can be replicated across other provinces.
"The UNDP [in collaboration] with the National Committee for Sub-National Democratic Development and Kep provincial administration have also been conducting a study of waste management and reprocessing in Battambang," he said.
Related Articles
November 11, 2021 11:08 AM
December 16, 2022 8:00 AM