URBANLAND's Partnership With Banks Offer Up to 100% Home Loan and With Better Interest Rate As Low As 4.39%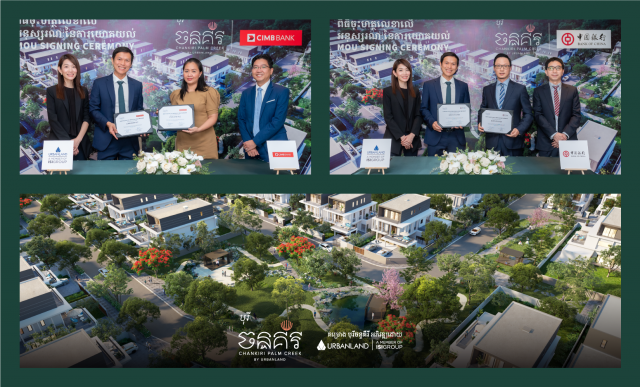 Phnom Penh, Cambodia, 02 March 2022 - Award-winning local real estate developer Urbanland, a member of ISI GROUP, has upgraded and entered into Memorandum of Understanding (MoU) with CIMB Bank and Bank of China, respectively, for their latest residential borey project, Chankiri Palm Creek.
Homebuyers at Chankiri can now borrow up to 100% of the purchase price of a home from CIMB Bank, previously 80%. Additionally, the partnership between Urbanland and the Bank of China sees interest rates on home loans as low as 4.39%.
The new partnership with Bank of China adds to the list of Chankiri's bank partners, including BRED Bank, CIMB Bank and J Trust Royal bank that allow borey Chankiri homebuyers to enjoy a faster home loan processing and approval process, as well as special payment schemes.
The MoU was signed in succession at Chankiri Sales Gallery between Mr. Leng Kang, ISI GROUP CEO, Mr. Hok Kang, the CEO of Urbanland, Mrs. Lida Diep, Urbanland's CFO and respective bank partners' representatives, namely, Mrs. Somaly​ Pech , CIMB Bank's Head of Consumer Banking and Mr. Liu Zheng, Assistant CEO of Bank of China.


Homeowners can enjoy a less crowded neighbourhood with more personal space, perfect for a relaxed way of living.

Commenting on these new partnerships, Urbanland's CEO, Hok Kang, said, "We build borey Chankiri to help our customers achieve their fullest potential in landed home living. The southern part of Phnom Penh is rapidly expanding, which makes investment here very rewarding. At the same time, we listen to homebuyers' aspirations and needs and incorporate these insights into our design-centric and people-centred homes to ensure that they can live and raise their family better, and happier."
Chankiri Palm Creek is Urbanland's latest foray into residential borey development, located on National Road 2, just off Hun Sen Boulevard, and near AEON 3. Chankiri Palm Creek has a people-centred design philosophy that reflects the developer's commitment to improving people's way of living.
The masterplan for borey Chankiri has been derived by carefully integrating findings from a 2 years research into Phnom Penh residents' needs. This has resulted in homes and facilities that are pleasing to the eye but also functional, nature-oriented, and different from the mainstream. People's needs have been considered at every step of the design process so that this community provides an excellent quality of life.
Following the launch of the new phase development of borey Chankiri, the community-oriented and nature-friendly masterplan will offer even more amenities for its residents such as floral gardens, yoga pavilions and meditation areas which will provide a peaceful setting to relax and unwind, perfect for a multi-generational family lifestyle.
Prospective homebuyers are welcome to visit the model show homes or contact the sales team on

061 888 580 / 015 588 580 for more information about the development, payment options and loans.


With these new bank partnerships, homebuyers can now enjoy a wider range of loan options with highly competitive interest rates

ABOUT URBANLAND
Urbanland is a Cambodian company creating inspirational spaces for people to live, work and play in, with absolute attention to quality, durability and craftsmanship. Founded in 2013 by architect Hok Kang, Urbanland believes that putting people at the heart of everything they do enriches people's quality of life and creates a healthy environment.
Urbanland is a member of ISI Group, a home-grown corporation with more than 22 years' experience in building materials and construction sectors. Urbanland has earned a name for itself as a design-focused developer driven by people-centred principles, as can be seen in its award-winning developments of Raintree (commercial offices), Embassy Residences and Embassy Central (high-end condominiums), Siem Reap's first premium art & design hotel Treeline Urban Resort, and KMH Park masterplan development on Veng Sreng, a mixed-use business and lifestyle hub with office, retail, residential, parks and green spaces, including K Mall, and ISI Tower.
Urbanland's latest major residential project, Chankiri Palm Creek, is yet another milestone project that will create a positive impact on the landed property sector in Cambodia.
Related Articles