U.S. Ambassador W. Patrick Murphy Meets with Sokha to Discuss Delays in his Trial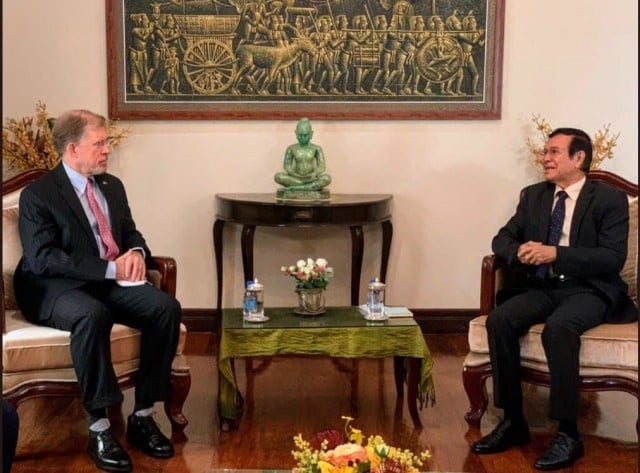 Phoung Vantha
January 28, 2021 1:41 PM
The United States is looking forward to seeing his political rights restored, Murphy said

PHNOM PENH--US Ambassador W. Patrick Murphy on Jan. 28 said that he met with former opposition leader Kem Sokha to hear about delays in his trial, which has been on hold for months.
"Pleased to meet with HE Kem Sokha to exchange New Year's greetings and hear about delays in his court case," Murphy said in an official Tweet. "Justice delayed is justice denied: the U.S. looks forward to seeing his political rights restored, just as we hope all Cambodians can participate in the political process."
The trial of the former leader of the Cambodia National Rescue Party (CNRP), which was dissolved in 2017 by the Supreme Court, began on Jan. 15, 2020, and was expected be held each week on Wednesdays and Thursdays, and end in March 2020.
However, in March 2020, the Cambodian government requested to suspend the trial due to the COVID-19 pandemic. And, while the Phnom Penh Municipal Court has resumed activity several months ago, Sokha's trial has not been rescheduled.
His defense team recently resubmitted its third request to the Phnom Penh Municipal Court asking for the opposition leader's trial to resume as soon as possible.
Ministry of Justice spokesman Chin Malin on Jan. 28 said that Sokha's case is in the hands of the court and the decision is up to the court as an independent institution. "Kem Sokha's past trials have been held in a public and transparent manner, allowing civil society representatives, diplomats as well as other members of the public to attend," he said.
Malin added that priority is now given to detainees' cases to avoid overdue legal detention, as the court is launching a campaign to resolve criminal case congestion and to resolve prison overcrowding. Sokha's case is no more important than solving the problem of overcrowding in prisons, Malin said.
Arrested in 2017, Kem Sokha has spent the past four years detained in one form or another. Even though his trial began one year ago and was to end within three months, Prime Minister Hun Sen has been hinting that the trial may last until 2024, which would prevent Sokha from competing in the 2022 and 2023 elections.
Following his meeting with US Ambassador Murphy on Jan. 28, Sokha said that they had discussed the relationship between Cambodia and the United States in the past and in the future under the new administration of US President Joe Biden.
"I also thanked the United States, through its former ambassadors, as well as his excellency personally, for recognizing my value in the field of human rights and democracy, and for my commitment to the principles of non-violence, patience, tolerance to seek peaceful solutions in the interest of the Cambodian people," he said.
On Jan. 25, European Union Ambassador Carmen Moreno had met with Sokha at his residence in Phnom Penh and commended him for his determination, nonviolence and commitment to human rights and democracy in addition to his efforts to put Cambodians' interests first.
Related Articles