US Congressmen Express Concern over Human Rights and Democracy in Cambodia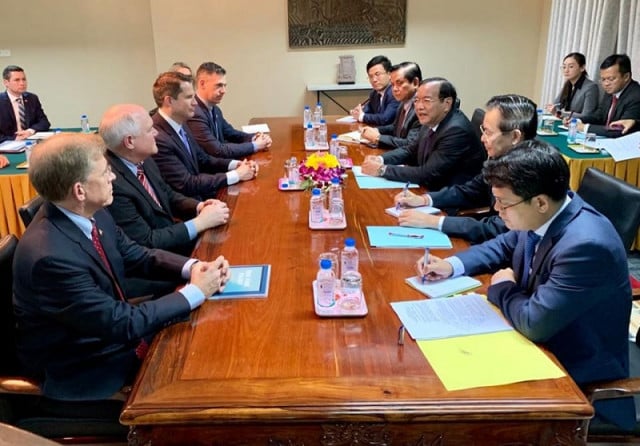 Torn Chanritheara
January 23, 2020 10:26 AM
Phnom Penh – Three U.S congressmen met Wednesday with senior government officials, voicing concerns over the country's state of democracy, human rights and sovereignty, according to a U.S. Embassy release.

The congressmen are leading a bipartisan delegation from the U.S. Congress visiting the country to help strengthen the United States' commitment to Southeast Asia, the embassy said on its Facebook page.
They are Democratic-Party Representative Seth Moulton, and Republican-Party Representatives Jim Banks and Ron Estes. Moulton and Banks are members of the U.S. Congress' House Armed Services Committee, and Estes a member of the House Ways and Means Committee.
The congressmen had meetings with Deputy Prime Minister and Foreign Minister Prak Sokhonn and with Defense Minister General Tea Banh, who is also deputy prime minister.
"They expressed the United States' firm commitment to the people of Cambodia, as well as Congressional concerns about human rights, democracy, and Cambodia's sovereignty," the Embassy's statement said, adding that while congressmen often disagree on numerous issues, they agree on the great importance of Southeast Asia and of working closely with countries in the region.
"We believe in a prosperous, democratic, and sovereign Cambodia, and we will share what we learned here with our fellow members of Congress and with Executive branch leaders in Washington DC," they were quoted as saying in the release.
Related Articles