U.S. envoy for DPRK says U.S. ready to engage in working-level talks with DPRK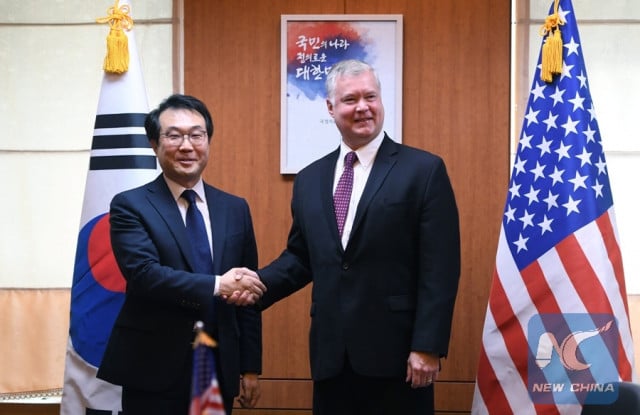 Xinhua
August 21, 2019 9:47 AM
SEOUL -- Stephen Biegun, U.S. special representative for the Democratic People's Republic of Korea (DPRK) affairs, said Wednesday that his country was ready to engage in working-level talks with Pyongyang for the Korean Peninsula's denuclearization.

Biegun made the remark after a meeting in Seoul with Lee Do-hoon, South Korea's special representative for Korean Peninsula peace and security affairs, according to local media reports.
"We are prepared to engage (in a working-level dialogue with the DPRK) as soon as we hear from our counterparts in North Korea (DPRK)," said Biegun.
The U.S. envoy said he will be "fully committed to this important mission" as U.S. President Donald Trump gave him the assignment to resume working-level talks with the DPRK following the U.S. president's meeting with top DPRK leader Kim Jong Un in late June.
Kim and Trump held an impromptu meeting at the inter-Korean border village of Panmunjom on June 30, agreeing to restart a working-level dialogue to implement the Singapore agreement, signed by the two leaders during their first-ever summit in Singapore in June last year.
The two leaders met again in late February in the Vietnamese capital of Hanoi, but the second DPRK-U.S. summit ended without any agreement. Under the Singapore deal, Kim and Trump agreed to the complete denuclearization of and the peace settlement in the peninsula.
Lee, the South Korean nuclear envoy, told reporters that he had a productive dialogue with Biegun as they discussed how to rapidly resume talks between Pyongyang and Washington and make substantive progress in the negotiation for the denuclearization.
He noted that Biegun visited Seoul at a proper time when efforts were necessary to restart the DPRK-U.S. working-level talks.
Biegun arrived here from Japan Tuesday evening, right after the end of the South Korea-U.S. joint military exercises.
The combined forces of South Korea and the United States staged the command post computer-simulated military drills for about two weeks to verify the South Korean military's initial operational capability (IOC) for the transfer of wartime operational control of the South Korean troops from Washington to Seoul.
South Korea's wartime operational command was handed over to the U.S.-led UN Command after the three-year Korean War broke out in 1950. Seoul regained its peacetime command in 1994.
The DPRK lambasted the South Korea-U.S. joint military drills as a rehearsal for northward invasion, test-firing short-range projectiles into the East Sea before and during the drills to protest against it.
During his three-day trip, Biegun was scheduled to meet with senior South Korean government officials, including Unification Minister Kim Yeon-chul later in the day and Kim Hyun-chong, a deputy director of the National Security Office (NSO) of the presidential Blue House, on Thursday.
​
Related Articles