US Expresses Concerns Over Kem Sokha Trial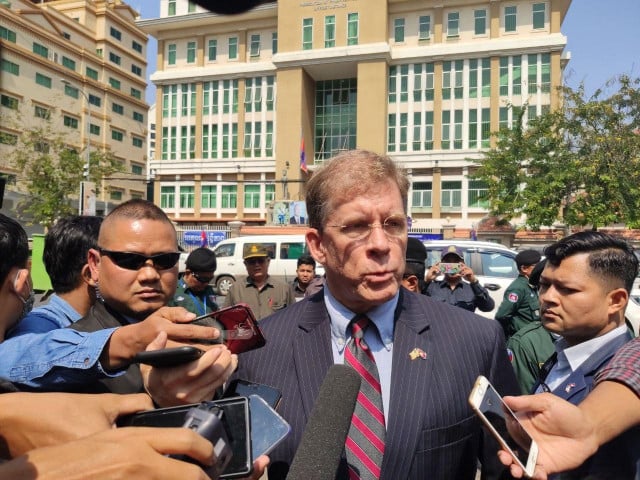 Phoung Vantha
March 12, 2020 5:05 AM
Noting that the prosecutors are pushing conspiracy theories as evidence, the US Embassy in Cambodia took to Facebook to condemn the court proceedings.

PHNOM PENH--The US Embassy has expressed its concern over allegations that prosecutors in the ongoing trial of former opposition leader Kem Sokha have been pedaling fake conspiracy theories as evidence, it said in a post on the embassy's official Facebook page on Thursday.

"Embassy staff have observed every day of proceedings for this trial. We're troubled to see prosecutors introduce fabricated conspiracy theories about the United States," the post reads.

The trial of Sokha, who headed the now-dissolved opposition Cambodia National Rescue Party, involves a charge of "conspiracy with foreign powers." Brought against him by the Cambodian government, the charge includes as proof a speech Sokha gave in Australia in 2013. If the court finds him guilty, he faces up to 30 years imprisonment.

According to the embassy's Facebook post, the US Ambassador W. Patrick Murphy attended the trial of Kem Sokha as an observer on Thursday.

"The United States is following the trial of Mr. Kem Sokha very closely," he said.

"This process has potential implications for the rule of law and due process in Cambodia and for the country's international relations," Ambassador Murphy noted.

This comes just after US-based civil society organization World Justice Project ranked Cambodia as 127th out of 128 countries analyzed in their Rule of Law Index 2020, which aims to provide a data-driven measurement of the rule of law around the world. Cambodia also ranked 15th out of 15 countries in East Asia and the Pacific, with its overall score improving by less than 1 percent compared to last year.

Ambassador Murphy countered that Kem Sokha has a well-deserved reputation around world as a champion for rights and freedoms. "We look forward to seeing his political rights fully restored, just as we hope that all Cambodians can participate in the political process," he said.

The United States has provided $3 billion in assistance to Cambodia in recent decades, including transparent assistance to strengthen institutions and political parties in line with Cambodia's constitution. Such programs have been available for all political parties – including the governing Cambodian People's Party and government institutions, the US Embassy claimed on Facebook.

"My government has made it abundantly clear that the United States has never sought to interfere in Cambodia's governance, and we fully support Cambodia's independence and sovereignty," the post reads.

"We do, however, support freedoms of expression, an active civil society, and tolerance of dissenting views as vital components of any democracy," it added.


Related Articles