US Farm Aid Project Extended for Five Years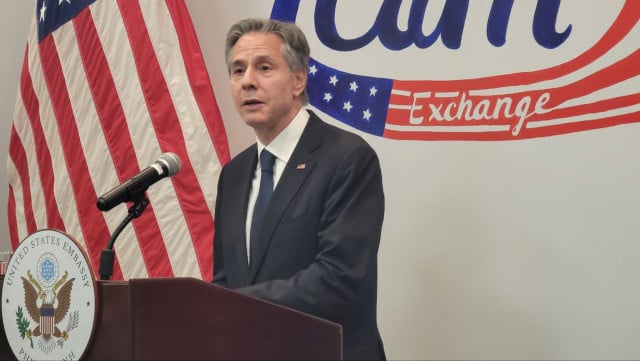 PHNOM PENH – Feed the Future Cambodia Harvest III, a project to promote agriculture, is to be extended for another five years with up to $25 million from USAID.
US Secretary of State Antony Blinken, in Phnom Penh for the ASEAN Foreign Ministers Meeting, announced the third phase of the project on Aug.4.
Harvest III will be nationwide and include grains, fish and other products besides fruits, vegetables and spices, letting farmers increase their incomes by getting access to equipment like greenhouses that lengthen growing seasons and improve plant quality.
"Over 60 percent of Cambodians live in rural areas. More than three-quarters of those households rely on agriculture, fisheries, or forestry as their main source of income," Blinken said.
"Many of these workers have only limited access to markets or financing. We want to change that so that more people can enjoy Cambodian products and more farmers and entrepreneurs can grow their businesses."
Through private sector engagement in key agricultural market systems, Harvest III planning activity would create better jobs and improve livelihoods, diets and well-being for Cambodians, especially women, young people and marginalized populations.
USAID says the project will work in partnership with hundreds of private sector companies. The agency expects the project to generate $38 million in private sector investment, $15 million in agriculture-related financing, $100 million in sales at farms and firms, and create about 3,200 jobs.
Over the past five years, the project has generated about $28 million of new private sector investments, created more than 2,500 jobs, and helped horticultural businesses and producers generate more than $75 million of extra sales.
Bun Sieng, chief of Natural Agriculture Village, said the Harvest II project helped farmers and markets to connect with each other.


Bun Sieng is chief of Natural Agriculture Village. Photo by Cambodianess

"We are able to meet many farmers to teach them about planting according to Good Agriculture Product (GAP) or Participatory Guarantee Systems (PGS) and also going into contracts with them," Sieng said. "With financial support, SMEs would be able to progress much faster and assist many farmers in a short time."
She said this financial assistance from USAID, Harvest II allows stakeholders to work together for mutual benefits, be they producers, suppliers, retailers or consumers.
Grants of $50,000 from the co-fund of the Harvest II project gave Natural Agriculture Village opportunities to work with nearly 500 families and enter into contracts with about 300 families in over 10 provinces.
Related Articles