US Pledges Funds for Mekong Management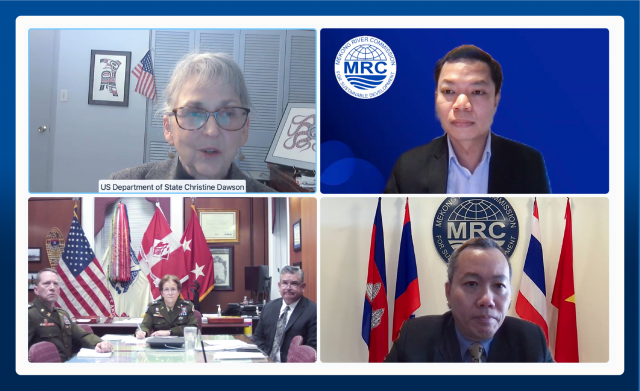 December 10, 2021 11:32 AM
Aid will boost exchanges with Mississippi experts
PHNOM PENH--The United States has pledged nearly $800,000 to boost the collection of data for water management in the Mekong River.
The money will also continue support for exchanges between the Mekong River Commission (MRC) and the Mississippi River Commission in the US.
The Mississippi River Commission researches and provides policy and work recommendations in the areas of flood control, navigation and environmental projects.
Provided by the US State Department under the framework of the Mekong-US Partnership, the funding will run from 2021 to 2024. It aims to address issues in data gaps and improve data sharing for impact monitoring, forecasting, infrastructure operations, basin planning and state-of-basin reporting.
The MRC said the funding will support data collection and mapping, including riverine communities to improve basin planning and operations, as well as early warning systems.
It added that with modern technology, including remote sensing products and datasets for basin planning and operations, this support will be critical in facilitating information sharing and communication between countries as they relate to water-related emergencies including water quality, navigation and dam safety.
Director of the Office of Conservation and Water at the US State Department Christine Dawson said the financial support will offer important support to the MRC to improve data sharing and collection.
"The United States is pleased to support the MRC in promoting and improving transparent water data sharing. Although small, this grant will provide strategic support to the important work of the MRC in the Mekong and wider region," Dawson said.
The State Department also supported continued exchanges between the MRC and the Mississippi River Commission as both sides cooperate on technical support, knowledge sharing as well as exchanges of river basin planning and disaster management.
President of the Mississippi River Commission Major General Diana Holland said
the MRC is a technologically advanced world-class international river basin organization serving the Mekong countries.
She said, "Because of the Mekong River Commission's history and standing in the international community, the Mississippi River Commission sees you as an equal partner in the Sister River Partnership. Just as the Mississippi River Commission believes that we have much to offer, and we are anxious to learn from you."
Chief executive officer of the MRC secretariat An Pich Hatda said both commissions have the same mission to ensure sustainability, noting that the Mekong River faces serious challenges that require greater attention.
"We have a common mission and shared commitment to promote sustainable development and management of the Mekong River that is confronted with increasing risks from climate change, extreme floods, droughts and development activities," Pich Hatda said.
With the new grant, the MRC has received about $ 4.8 million in support from the US since 2002.
Related Articles
November 24, 2022 9:32 AM