US Pledges Further $4m to Assist Cambodia's COVID-19 Efforts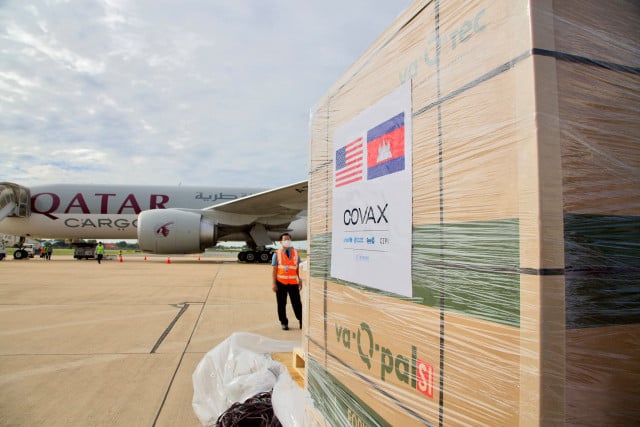 Just a week after the second batch of Johnson & Johnson COVID-19 vaccines arrived from through COVAX, the US has pledged another $4 million to support Cambodia's fight against COVID-19
PHNOM PENH--The United States on Aug. 9 pledged a further $4 million in assistance to support Cambodia's effort in dealing with the COVID-19 pandemic.
The financial package, which will be provided through the US Agency for International Development (USAID), will assist Cambodia in ensuring readiness in vaccine management, vaccination promotion among eligible populations, public health interventions as well as boosting testing capacity through supporting laboratories.
The additional assistance was announced after Cambodia received donations totaling 1,060,100 doses of the Johnson & Johnson vaccine through COVAX from the US that arrived in two batches on July 30 and Aug. 2, 2021.
US Ambassador to Cambodia W. Patrick Murphy said that as a part of its global effort, the US administration is proud to offer support to Cambodia in achieving public health safety as well as bring about economic recovery in the future.
"Advancing global health security and disease outbreak preparedness is vital not only to protect health and safety, but also to ensure economic prosperity and defend the security of our countries," Murphy said, adding that, "We are proud to provide this support, which will help Cambodians protect themselves, their neighbors, and their economic future."
According to the statement, this additional assistance from the American Rescue Plan brings its COVID-19 assistance to Cambodia up to $11 million since the start of pandemic last year.
"This support has reached more than 10 million Cambodians with risk communication materials via television, social media, radio, SMS messaging, and billboards," the statement read.
With this ongoing support, it added, the laboratory capacity and healthcare workers' skills have been advanced while the economic impacts driven by the pandemic have also been alleviated.
Since 1992, the US has invested more than $1.54 billion in Cambodia through USAID—more than $377 million of which has helped Cambodia address infant mortality, under-five mortality, maternal mortality, malaria, tuberculosis, HIV/AIDS, improve hygiene and nutrition to prevent stunting, as well as to help improve its logistics and information capacity in health system.
As of Aug. 8, Cambodia had registered 81,891 COVID-19 cases in the country. Among them 75,495 patients have recovered and 1,562 patients have died of the disease.
Related Articles