US Returns Looted Artifacts to Cambodia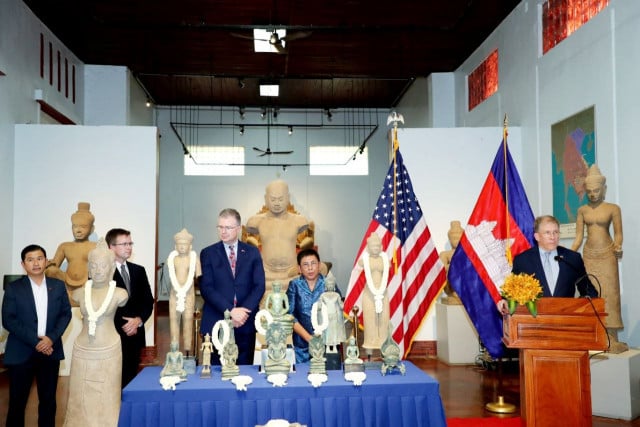 PHNOM PENH – Twenty-seven looted artifacts have been returned to Cambodia after cooperation between the government of Cambodia and the United States. The relics are now being displayed at the National Museum in Phnom Penh.
A ceremony to mark their return took place on July 13 at the museum, joined by US Assistant Secretary of State for East Asian and Pacific Affairs Daniel J. Kritenbrink, US Ambassador W. Patrick Murphy and Minister of Culture and Fine Arts Phoeurng Sackona.
"Today's ceremony is a testament to the strong relationship between the United States and the Department of Culture and Fine Arts," Kritenbrink said.
"US initiatives, such as the Ambassador's Fund for Cultural Preservation, demonstrate our long-standing support for the restoration of culturally important historical sites for Cambodia."
Kritenbrink said a Memorandum of Understanding between the Cambodian government and the US had strengthened cultural cooperation between the countries by facilitating the return of more than 100 invaluable artifacts, building the capacity of the Cambodian people who are working to preserve their cultural heritage.
Ambassador Murphy said, "The United States is proud of its contribution to Cambodia's efforts to preserve Cambodia's cultural heritage and to our joint efforts to repatriate invaluable artifacts from the United States."
Last June, an agreement to return 27 trafficked antiquity items to Cambodia was signed by Cambodian Ambassador to the US Chum Sounry and New York District Attorney Cyrus Vance.
These included Angkorian Buddhist statues and Hindu statues such as a bronze meditating Buddha on a Naga, a statue of Shiva and a Buddhist sandstone sculpture of Prajnaparamita.
Sackona said Cambodia looks forward to continuing to co-operate in the investigations and efforts, training and exchanging information and skills with the US to rediscover national treasures which have been smuggled.
"We truly thank the United States Government for its time and resources in combating cultural trafficking," she said.
Since 2001, the US has given Cambodia more than $5 million for cultural preservation, including more than $3.5 million for the preservation and restoration of the Phnom Bakheng temple in Siem Reap and the Tuol Sleng Museum.
Ambassador Murphy also announced that the restoration of the Temple of Preah Vihear will receive a new US grant of $360,800 through the Ambassador's Fund for Cultural Preservation
The US government has already contributed $406,000 for the restoration of this important historical site in northern Cambodia, he said.
Related Articles