US State Secretary Anthony Blinken Thanks Cambodia for its Welcome, Points out the Need to Respect Democracy in the Country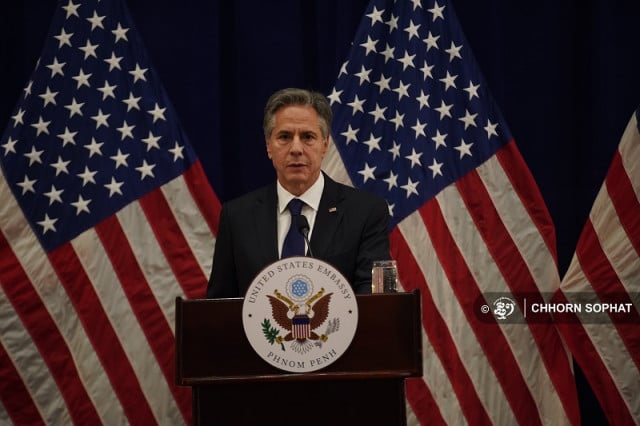 PHNOM PENH — U.S. Secretary of State Anthony Blinken on Aug. 5 expressed his appreciation for the warm welcome he received in Cambodia, saying the United States intends to strengthen bilateral ties with the country while standing for real progress to be made in democracy in Cambodia.
"This has been my first visit to Cambodia as the secretary of state," he said at a media briefing on the sidelines of the ASEAN meetings in Phnom Penh. "I have to say I've been struck by and deeply appreciated the friendliness, the warmth of Cambodian people that I've had an opportunity to meet and interact with."
Blinken was in Cambodia to attend the 55th ASEAN Foreign Ministers' Meeting held on Aug. 3 and the related meetings that followed. On Aug. 4, he met with Prime Minister Hun Sen and his Cambodian counterpart Foreign Minister Prak Sokhonn.
According to Blinken, he discussed with the prime minister how to ensure that all Cambodian people can enjoy a bright future by protecting democratic rights, preserving Cambodia's independence, and pursuing an inclusive economy.
"The United States looks forward to deepening our partnership with Cambodia on these fronts and many more," he said at the media briefing. "We're grateful for our long-standing friendship with Cambodian people, and I thank Cambodia again for showing us such warm hospitality these past days."
Blinken also stressed that what hinders bilateral relations between the U.S. and Cambodia is a decline in the respect for human rights and democracy in the country. "One of the things I shared with the prime minister and other Cambodian interlocutors is our expectation and, I think more importantly, the expectation of Cambodian people that elections in Cambodia will be free and fair, and genuinely participatory, so that everyone in Cambodia can be represented in the elections and depending on their outcome in governance," he said.
Blinken called on the Cambodian government to abide by international principles and its constitution, and to truly respect democracy and a multi-party political system.
"Our purpose is not to be for any individual or any party—not at all…—it's about the process, making sure that there is a genuinely democratic process when it comes to Cambodia's elections," he said. "That's what we are looking to, that's what I shared with the Prime Minister."
Blinken left Cambodia in the evening on Aug. 5. His next destination was the Philippines.
Related Articles