Vegetable and Fruit Donations Shipped to Takhmao City and Phnom Penh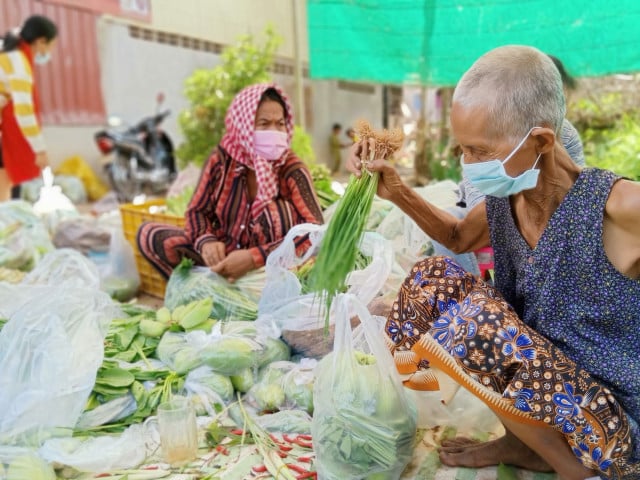 Po Sakun and Sao Phal Niseiy
April 25, 2021 6:41 AM
An initiative of a small trader, farmers and villagers, they went to some of the most in need in those cities
PHNOM PENH--People in Kandal Province were relieved to learn that the fruit and vegetables, which they had gathered to donate to the worst-offs during the COVID-19 lockdown, were delivered as planned in Phnom Penh and Takhmao City on April 24 while the produce were still fresh.
This will have taken the coordinated efforts of several levels of governments willing to help a fruit and vegetable trader, sellers, farmers and villagers get their donations from Kandal Province across zones under travel restrictions to the capital and Takhmao City.
Following comments from Phnom Penh Governor Khuong Sreng to the effect that he was ready to help with the produce transportation and distribution to people in need in the capital, the Kandal provincial authorities on April 24 gave their approval and assisted the transportation of fruit and vegetables donated by the people of Prek Bak Village in Loeuk Dek District's Prek Tonloap Commune.
The shipment reached destination in the evening of April 24 as the authorities of Chbar Ampov District in Phnom Penh sent a truck along with some officials to pick up the donations and oversee the operation.
Try Uch, an official at the Chbar Ampov District administration who led a working group to get the donations, said that he was assigned to bring the produce to two destinations: Takhmao City and Chbar Ampov District.
"We received information from the Kandal provincial officials that our [Cambodian] people wanted to donate vegetables and fruit to those under quarantine…whose livelihoods have been affected by the lockdown," Uch said.
"As the representative of the Chbar Ampov administration, I am really thankful for these generous and important donations from our own people," he added, pointing out that that he and his team would try to get the fruit and vegetables distributed as soon as possible to make sure they don't rot.
Ordinary People Helping Ordinary People
Many Prek Bak villagers including the elderly and Buddhist monks came together to donate and also help prepare fruit and vegetable packages for shipment, and this, in the rain on April 24.
Taing Lay, who is an 80-year-old grandmother, brought along bananas and water spinach as donations, hoping that her small contribution could help relieve the hardships facing her compatriots in Phnom Penh who are going through difficult times, she said.
"I went to get water spinach and bananas to donate because I really feel pity for those who can't get food," Lay said. "Honestly, I was concerned that there would be no truck coming to pick this up. But I am extremely happy and flabbergasted now."
Sen La, the trader and the initiator of this movement, said that the amount of fruit and vegetables donated by villagers, sellers and farmers reached three tons. "We got around three tons and we didn't even request them [from people in and around the village]," she said. "They just joined in and donated what they had."
​Ngy Sary, chief of the Prek Tonloap Commune where Prek Bak Village is located and who also came to help with the shipment process, praised his people's efforts and kindness to organize this charitable effort to help one another as much as possibly can.
"This is the culture of helping each other during difficult times, Sary said. "People in this village circulated information and gathered donations as they know people have been affected and faced food shortage."
He went on to say that this kind of action should spread to other parts of the country in an effort to encourage and support those affected by the ongoing lockdown due to the pandemic.
"This will not only help those the most in need but it also helps us effectively implement the measures against COVID-19," Sary said.

Reporting by Po Sakun
Related Articles