Vendors and Small Businesses in Siem Reap City Are Struggling due to the Drop in Visitors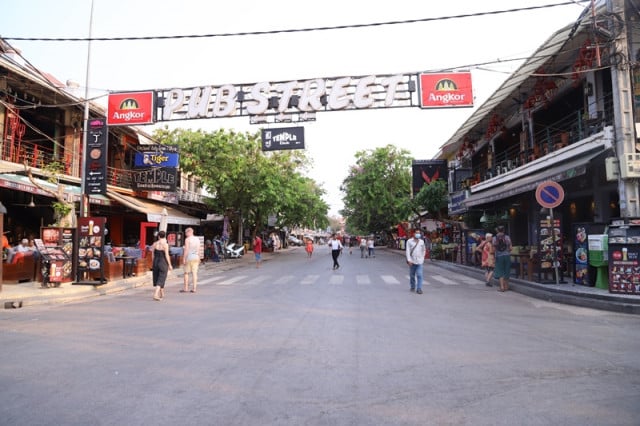 Rohany Isa, Phoung Vantha 
March 20, 2020 5:21 AM
With COVID-19 keeping tourists away, they wonder how long they can last

Siem Reap—Until recently, Pub Street and Psar Chas (old market) in the center of Siem Reap City were usually filled with tourists from around the globe who shopped and filled the pubs, bars and restaurants as live and recorded music could be heard throughout the area.

But this was pre COVID-19. Today, the center of Siem Reap City has become uncommonly quiet. At mealtime and in the evening, pubs and restaurants are close to empty except for a few staff standing by, hoping to serve some customers.

Businessmen in and around Siem Reap City—which is Cambodia's busiest tourist area due to the Angkor Archeological Park—are struggling to cope with this dire situation with their costs virtually double the income they manage to generate. Many, and especially those with small businesses, may face closure if the situation does not soon improve, they say.

Sambo, who has been running a souvenir shop for four years in Psar Chas, said that she is not sure how long she will be able to keep it open.

"We cannot keep on spending every day [while making no money]," Sambo said. "We negotiated with the landlord to lower the rent a little but we still don't know what he will decide.

"We would like the authorities to help us negotiate with the landlord," she said. "Not sure how business can go on, how to manage."


Vichhai who sells sunglasses used to earn $ 30 a day, he said. Now, it's down to $10 and, some days, he sells nothing. "Before, I was working from 10 am to 5 pm," he said. "These days, there are fewer people and I have to work longer."

Nary, who is employed at a massage business on Pub Street, said that the drop in customers started before cases of COVID-19 were identified in Siem Reap City.

In recent years, the biggest number of tourists at Angkor have been Chinese. But due to the Coronavirus Disease 2019 (COVID-19) in China, few have been visiting the country since January.

Nary estimates that her shop has lost about 60 percent of its customers who consist of a mixture of international visitors. Recently, there have only been some European tourists.

Some shops on and around Pub Street are shutting down, Nary said. The landlord of the shop where she wokrs, however, has agreed to lower his tenants' rent, she said. Rents in that area of Siem Reap tend to be very high, she added.
Related Articles
February 22, 2023 10:02 AM