Veng Sreng Protest Pain Lives on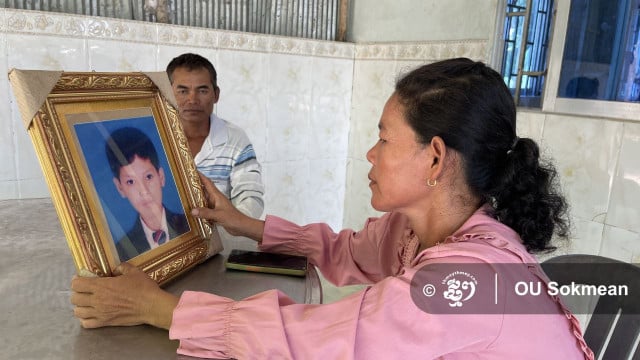 PHNOM PENH – In Leakena has given up hope of finding her son, Khem Sophat, who went missing during a protest and crackdown on workers on Veng Sreng Boulevard in early 2014.
"It's almost nine years now. If he has died, I want to see his body," she said tearfully.
Leakena, sitting in front of her house in Ang Ta Sou commune in Svay Rieng province, said that in the two to three years after Sophat went missing, she and her husband searched for him everywhere.
People involved in the clash on Veng Sreng Boulevard said they saw young Sophat being shot and forced into a car, she said. At least five people were reportedly killed when wage protests turned violent.
The couple would go to the pagoda when they heard a body was sent for cremation.
"If he is alive, he would come home. But I am willing to save money and travel to meet him if I know he's alive somewhere," said Leakena, 45. But as time passes, all she can do is organize a Buddhist ceremony for her son every year.
In search of their child and justice, the farming family have navigated the challenges of not knowing the law. However, she had received a lot of support from civil society organizations in the form of legal advice.
The government has invited her family to seek answers from the Ministry of Interior.
Trauma and economic losses
Before her son went missing in the protest in 2014, In Leakena used to receive nearly 400,000 riel or $100 a month from him. Now, without his financial support she has debts of more than $10,000.
She dares to spend no more than 20,000 riels or $5 a day because her husband and her eldest daughter are the only earners in the family, with her raising a few chickens at home. Her family has to pay about $200 a month on a bank loan for building the house and hospital expenses for her health.
"In the past, my son worked in a factory and sent money home to build a house. The construction was not yet finished, but the incident happened and we lost our son. My husband and I started to have illnesses, so we decided to request a loan from the bank," Leakena said.
Khem Soeun, Sophat's father, said what happened to Sophat traumatised him and Leakena. They no longer wanted to see any pictures of protests.
"I keep telling my relatives not to go to a protest with anyone else. And I myself do not dare to argue with others because I am afraid and traumatized after my son went missing in the protest," he said.
At 49, Khem Soeun underwent gastric bypass surgery a few years ago. He supports his family by carrying passengers on his motorcycle and earns 40,000 to 60,000 riel or $10-15 a day.
Soeun started to carry passengers when his son went missing. Apart from this, his family has about a one-hectare plot of land to plant rice, but due to the high price of fertilizer, spraying, plowing and labor costs, the family often fails to farm because it is not profitable.
"What we want is justice for our family. At least it is known whether the child is alive or dead, but the case seems to be quiet and no one cares," he said.
Government spokesman Phay Siphan said the process was still continuing in the case of the Veng Sreng Boulevard crackdown. He said the case was linked to the case of former CNRP leader Kem Sokha.
"The court is handling this case on suspicion of serving a foreigner, and he was seen handing out cakes to the protesters. When you do something, do not think that the Cambodian law can't do anything."
Vorn Pov, president of the Independent Democracy of Informal Economic Association (IDEA), who was beaten during the Veng Sreng incident, said he was also arrested and was waiting for justice like the victim's family.
The incident had prompted him to participate in protecting, promoting and demanding workers' rights.
"Since the Veng Sreng incident, the rights of workers, unions, and civil society have not improved and workers who are protesters, victims, and non-victims are terrified of past violence," Pov said.
Ministry of Justice spokesperson Kim Santepheap, said that no new information on the Veng Sreng issue had been received.
Freedom of expression is shrinking
NGOs see human rights, especially the right to protest, shrinking. Around this decline of rights, they cited the case of the protest on Veng Sreng Street and the protests of NagaWorld staff.
Adhoc spokesman Soeung Senkaruna said that for 10 years, freedom of expression through protests had been restricted. The human rights watchdog said civil and political rights had improved during 2012, with activists, civil society, and political party leaders seemingly exercising their rights without concern.
But since the end of 2013 and the beginning of 2014, with clashes between authorities and workers protesting for a $160 wage on Veng Sreng Road, restrictions on freedom of expression had arisen.
Senkaruna said the current restriction of the gathering of more than 10 people, the Law on Politics and the Law on Civil Society, and the Law on Trade Unions undermine fundamental freedoms and assembly as well as expression.
"I think that human rights in Cambodia depend on the political situation, especially before and after the election. The law is a tool for action against activists, and the political situation is not good, while human rights, fundamental freedoms and protests are not good either," he said.
Siphan said civil society must stop being confused about the Veng Sreng Street incident.
"The Veng Sreng Street incident in 2014 was not a protest," he said. "It was a military-style riot. Throwing grenades, throwing petrol bottles at high-rise buildings on authorities is not advocacy."
However, Am Sam Ath, LICADHO's deputy director of monitoring, believes that political and human rights have declined sharply for almost a decade, especially during the arrest of Kem Sokha in 2017 and the persecution of a series of government critics.
The protesters have been subjected to all kinds of violence from the authorities, as in the case of NagaWorld. Protesters criticized the ministry's settlement procedures and clashed with the authorities. The use of violence against protesters does not improve human rights, Sam Ath said.
"Violence against protesters causes them and other citizens to gather to criticize or protest against the authorities as they see the hardships of previous protesters," he said.
Siphan said authorities had resolved the NagaWorld dispute in accordance with the law.
The Ministry of Labor had pointed out that anyone who was dissatisfied could file a complaint with the court, he said. Cambodia was a country with the rule of law and born out of a majority vote.
Justice Ministry spokesperson Chin Malin said only critics had spoken about the issue of rights and freedoms over the 10 years. Most citizens who exercised their rights in accordance with the law were happy to exercise their rights and freedoms.
"This small group uses their rights to violate others, while some do it without understanding the law. Some know but violate the law and provoke social disorder," he said.
Chak Sopheap, executive director of the Cambodian Center for Human Rights (CCHR), said not only workers facing law enforcement during strikes and demonstrations, even CCHR observers, as well as other civil society groups, have been restricted from observing, especially when there are clashes between protesters and the authorities.
"The government should consider all citizens, institutions, civil society, and all critics as partners," she said.
Heng Sour, a spokesman for the Ministry of Labor, said the civil society groups misjudged the situation. "The NGOs only want the protests to continue so that they can keep their sources of income," he said.
Chak Sopheap of CCHR said Cambodia has guarantees under many national and international laws, including labor law, trade union law, and human rights law, to exercise its rights. Thus, the protestors are not required to be permitted by law, they just need to inform.
Article 5 of the Law on Peaceful Demonstration stated that any group of individuals who wish to organize a peaceful demonstration in a public place must notify in writing to the territorial authority of the capital or province in charge of that place.
Chhim Sithor, president of the NagaWorld Cambodian Workers' Rights Support Union, and Khun Tharo, program manager of CENTRAL, said that freedom of expression is now declining, while the peaceful assembly is not allowed, as was the case in NagaWorld. In particular, this creates impunity in society.
However, Khieu Sopheak, a spokesman for the Ministry of Interior, said, "If the freedom to protest, human rights and civil society rights have really declined in the last 10 years, why are the civil society institutions are still operating in Cambodia?"
Related Articles