Veteran Traditional Arts Teacher Sou Savang Hospitalized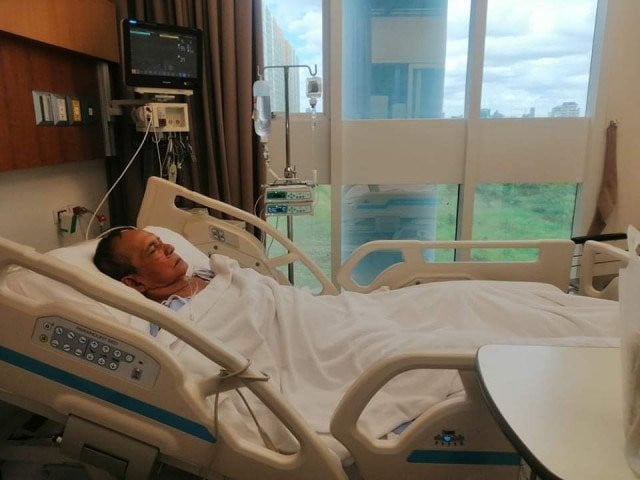 Sou Vannak, the youngest son of Sou Savang, a.k.a. Fuzo, has said his family is struggling to pay for his father's medical treatment and urgent support is needed to care for him

PHNOM PENH--Sou Savang, a veteran teacher of many art forms and executive director of the National Action Culture for the Orphan Poor Children Association, was rushed to hospital on Oct. 9 after falling seriously ill.
Now 78, Savang—who also goes by the name Fuzo—is a renowned comic, a former teacher of fine arts and a keen conservator of Cambodian culture, who has spent much of his life working with underprivileged children to who he has housed and taught traditional art forms.
Sou Vannak, the youngest son of Savang, said he has put his house up for sale to raise the $150,000 urgently needed to cover his father's medical treatment. He called upon those who can help his father to donate.
According to Vannak, Savang's condition has improved moderately and currently his father's fever, coughing and fatigue have decreased, but his as much as 70 percent of his lungs are damaged and his liver has grown inflamed.
"The liver has developed an abscess, which has not come out yet. However, the collection of pus must be pumped out because if unattended, it will pose a threat to my father within 24 hours," he said. "This treatment only lessens my father's condition but does not completely put a halt to the progressing of the disease because he has been sick before. Tuberculosis usually returns in old age, even if we treat it as a child."
Savang suffered from tuberculosis nearly 20 years ago but has since recovered. A few years ago, he underwent surgery and lost part of his liver, putting him at more risk of illness.
The doctor will analyze the abscess and will prescribe medicine to treat the disease, Vannak stated, adding that Savang has to take some medicine to control his condition during the week before knowing the diagnosis.
"Antiseptic treatment should be done between four to six weeks. Medical expenses have not been confirmed," said Vannak. "I asked the doctor to take the father out of the ICU because I could not afford it, while a regular treatment in a normal room also costs more than $1,000 per day, which requires a whole week for treatment.
"More than $30,000 has been spent so far for his previous medical treatment. I now have to prepare $10,000 for one week of treatment, but we still have to pay more for further treatment."
In addition to medical treatment, Savang was required to undergo additional scans. A single scan costs $700 to $ 800, according to his son.
"Currently, I have less than $30,000, while some of the money has been borrowed from my friends or other people," he said. "There is a lot to be paid, and borrowing money from other people is not the best solution as they won't be able to help us much. So, all I could do is put my house on sale so that I could repay the debt and pay for my father's medical treatment."
Vannak added that he has written letters to a number of individuals within the government and those who have been close to his family, including the Cambodian Red Cross, to ask for support.
He has not received any responses, but Vannak said he has received money from some charitable people.
"I have already called for assistance, but I do not want to insist on the help. Charitable people can help us as much they can," Vannak said. "When we normally lack something, we always want help, but not to the point of insistence.
"I will try to solve my family's problems as hard as I can. I would not change my decision of selling our house even after our family receives assistance. Moreover, even after selling the house, we still need assistance because the treatment is a long journey, which requires a great amount of money."
Vannak said that after he announced the sale of the house until now, no one has contacted him yet, but if the house is sold, 50 percent of the money will be used to repay the bank while the other 50 percent will be divided into two parts: Paying off the debt from his father's previous medical treatment and paying for the current treatment of his father.
Related Articles