Visak Bochea Billboards on Display in Battambang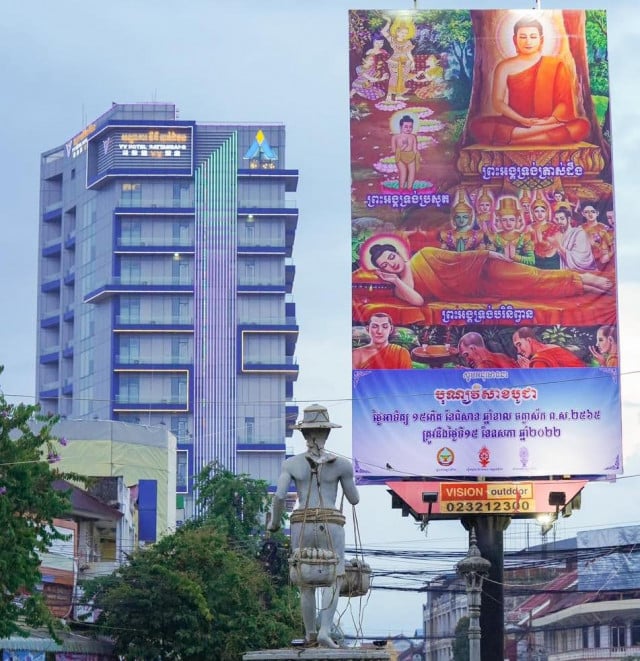 Displays to inspire Buddhist values
PHNOM PENH – Visak Bochea billboards are being put up along streets in Battambang province, an action praised by people who are more used to seeing advertisements for drinks, beer or phone services.
Provincial Governor Sok Lou said the action is to encourage Buddhists to practice their religion more consistently.
"The purpose is to show people that Visak Bochea is a big religious festival for Buddhists to respect in Buddhism," he said.
Visak Bochea is held on every 15th day of the month of Visak, which falls on May 15 this year. It is the most significant festival in Buddhism and is celebrated to commemorate three special events related to Buddha, his birth, enlightenment and nirvana.
Nearly 200 member countries of the UN adopted and recognized Visak Bochea as an international festival in 1999.
The billboards were placed along National Road 5 from Ta Dambang Kranhoung roundabout to the new stone bridge and some others in Battambang city. More billboards will be installed along Street 1, which is the route for the ceremony march.
All the billboards will be in place from May 9 until the end of the festival on May 20.
Ministry of Cults and Religions spokesperson Seng Somony praised the provincial administration for setting up the billboards and encouraged the local authorities and pagodas in other provinces to try to publicize the national festival arrangements as much as possible.
Related Articles