Volunteering Gives Sophal Courage in Commune Role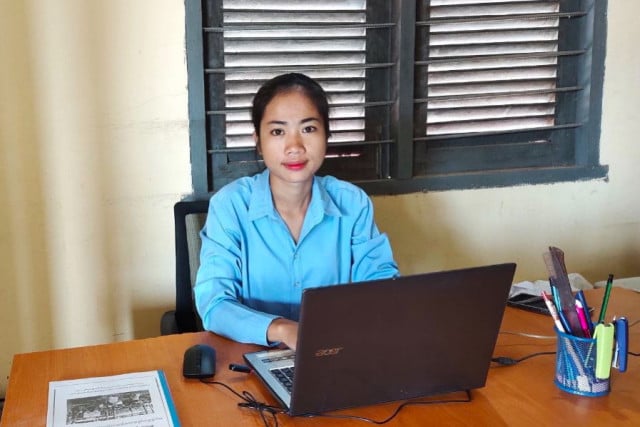 PHNOM PENH – Volunteer work proved to be a good asset for Khin Sophal to muster the courage and leadership capabilities to serve in local government. Sophal, 24, is an assistant to the chief of Srayov commune of Kampong Thom's Stung Sen city.
Volunteering changed her personality and nurtured her courage. It gave her the chance to work in the commune and become directly involved in delivering public services.
Srayov commune office, on National Road 6, is 6km from the city center. The one-story red building has four rooms with a big hall in the middle which serves as a meeting place for the commune council and a place to meet people coming for services.
She is the youngest official there, a position she has held since July, 2020. Before passing the entrance exam, she volunteered with civil society organizations while studying for a bachelor's degree in accounting in Kampong Thom.
Previously, Sophal did not like to say much. Working as a youth volunteer gave her courage. She can speak confidently among people and take the initiative for commune work.
"Before, I did not dare to talk. I was always anxious when I spoke," she said.
"My legs and my mouth trembled when I introduced myself during group orientation. But by the time I got to work in commune office, we were working with people and we were participating with the youth. I am not afraid anymore and my hands and feet don't tremble."
Youth role in accelerating sub-national work
As the commune chief's assistant, Sophal said local people's awareness of how to receive services at the office was still limited.




Previously, Sophal did not like to say much. Working as a youth volunteer gave her courage. Photo provided.

A lack of documents and insufficient understanding of the importance of documents were the most common problems. Such issues motivated her to become a spokesperson, providing solutions between people and the authorities.
Sophal says the presence of young people is important at the commune level. One of the most important points was disseminating technological knowledge to people in the commune which could contribute to the efficient delivery of services.
In her position, Sophal started to change the way of recording documents and administrative procedures in the commune by computerising writing reports, records, registrations and other documents.
"It's great because young people now learn fast. Through social media like Facebook, they quickly spread the information. In the past, all documents were handwritten," she said.
"Commune reports are handwritten because there is no one who knows how to use computer. Actually, there is someone who can use a computer, but he alone cannot do all the typing. So, when I come, it is never handwritten," she said.
She is the youngest daughter in the family and also has time to take care of her parents.
"I'm all good here because it's a job I love. I love it because I can help myself and those around us. I help them, tell them how to have proper paperwork without wasting time. And I also created a Srayov group in Telegram," she said.
"But it is not only the people in Srayov commune who are in the Telegram group. It is inter-commune. If people in that group want to know something, they can ask in that group."
Sophal encourages young people to participate in work at the commune level. She also hopes that she can play a role in accelerating the delivery of public services to the more than 10,000 population of Srayov and promoting better services.
"Youth is an important force because young people are still able to work for a long time. So if they start working at the commune level they become proficient in these skills.
"For example, in the future, when they become a commune councilor, they know a lot about public administrative services."
Originally written in Khmer for ThmeyThmey, this story was translated by Torn Chanritheara for Cambodianess.
Related Articles