Waste Collectors: Cambodia's Recycling Heroes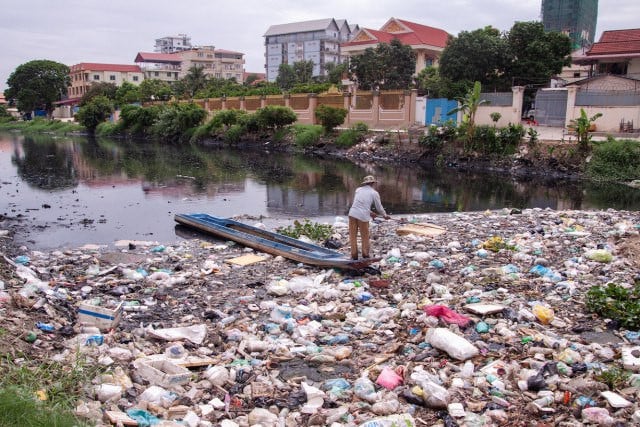 PHNOM PENH – Informal waste collectors have been identified as the biggest contributors to Cambodia's recycling efforts.
However, their image is poor and the rewards are low with multiple health and safety risks.
The contribution of the collectors was highlighted at a Waste Summit in Phnom Penh on Aug. 13.
The summit has served for five years as a platform for dialogue and to pave the way for partnerships between problem-solvers, investors, startups and other related actors, said Daniel Schmucking, country director of Konrad Adenauer Stiftung (KAS) Cambodia.
"Informal waste collectors have played a crucial role," he said.
"They are making a living out of waste. At the same time, they have also reduced the amount of waste that goes to landfill. That is very sustainable and very beneficial for Cambodia."
This year's summit addressed the role of the informal sector in solid waste management and recycling. It was organized by KAS Cambodia, EuroCham and NGO GIZ Cambodia at FACTORY Phnom Penh.
This event was attended by more than 300 people, with 50 exhibitors and 50 booths, showcasing a range of business, new tech, entrepreneurial and social solutions to waste management.
The backbone of recycling industry
Monika Nuon, program manager for sustainability and digitalization at KAS, said, "Among four million tonnes per year, only around 62 percent of the total was collected by the formal and private companies.
"There is also illegal dumping and mismanagement along the street and buildings around the dumpsite, and only 7.9 percent is collected by the informal sector," she said.
"Although 7.9 percent is a small number, the informal sector can reduce a lot of waste and revalue all that waste. What is even more important is that most of the waste they recycle does not end up in the landfill."
She added that the informal sector also contributed to cost reduction for the government in disposing of waste, as well as generating money for the economy.
"Informal sectors could make a million dollars per year with recyclable materials they collected if there is about four million tonnes of trash. They are the backbone of the recycling industry and also a planet-saver."
Cambodian's perception of waste is poor and informal sector jobs are unpopular, Nuon said.
She thinks that there is a clear lack of understanding of the informal sector, given the lack of awareness and appreciation of people working this job and the job itself. Informal waste pickers had the least rewarding job but one with big health risks.
Chan Na, an informal waste picker, said she had no choice because of her financial condition and low education.
She said, "Garbage collectors are at high risk of heatstroke, viruses and bacteria, and accidents when cars, tractors, bulldozers move recklessly."
It is even more of a challenge during the rainy season as she faces slippery surfaces, cold, itches and heavy handling, making it difficult to pull the cart.
Environment Ministry spokesperson Neth Pheaktra said more than 10,000 tonnes of rubbish is generated in Cambodia per day. municipal solid waste (MSW) amounts to four million tonnes annually, with MSW per capita of 0.73 kilogram per day.
Related Articles