Water in Boeung Pearaing Sanctuary Runs Dry, Threatens Fish Species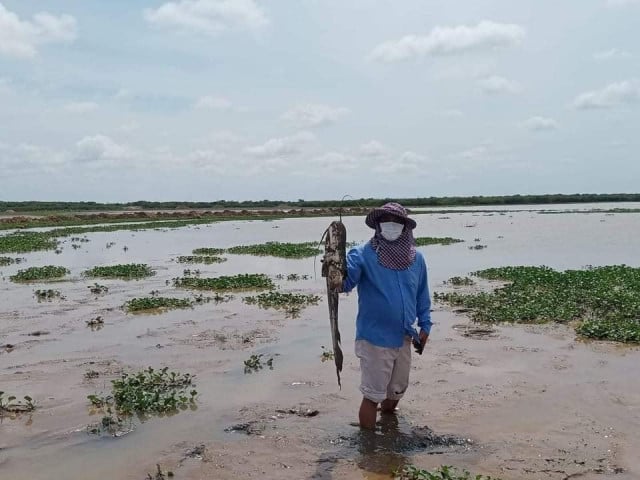 Fish have died and birds have fled Siem Reap Province's Boeung Pearaing Sanctuary as extreme heat and a delayed wet season have left the lake's water levels too low to sustain life
PHNOM PENH--A combination of a prolonged dry season and the subsequent shortage of water have left Boeung Pearaing Bird Sanctuary dried up in Siem Reap, threatening the lives of fish and bird species.
More than 70 kilograms of fish were found dead on the water over June 3 and June 4, said Koung Moungkol, president of Boeung Pearaing Community, who added that low water levels and extreme heat were to blame.
The result, he noted, was that fish were dying and birds were migrating away from the sanctuary as its environment shifted. As such, Moungkol and others have dug temporary ditches to pump water into the lake and there have been no more fish deaths since.
"The level of water is really low at just around 0.1 meter so the fish can't live in the hot water," Moungkol said. "Our emergency response, with the support from the Provincial Department of Agriculture, is digging holes and getting more water in to [Boeung Pearaing] to help fish."
However, the unseasonal heat and distinct lack of rain have both continued and Moungkol said he fears that these measures will only last a few days—what's needed is rain.
Located some 8 kilometers away from the center of Siem Reap City, Boeung Pearaing has the total area of around 3,000 hectares including the surrounding flooded forest, but this shrinks to around 223 hectares during dry season. It is the main habitat for several hundreds of fish and bird species.
When asked whether he, as a community leader, has ever seen such extreme weather before, Moungkol said that a drought led to the death of many fish in 2016, when Cambodia was hit hard by the most severe drought in many decades.
However, he stressed that the main factor is not climate change, but rather the fact that the lake urgently needs dredging so that fish habitats can be restored. The temporary restrictions on accessing water from the Siem Reap River are also another big factor.
"In the previous years, we managed to deal with this problem and prevent fish from dying as we could pump water supply from Siem Reap River. But this year, we could not do so as the river has been under rehabilitation," he explained.
He went on to say that seeking water across Cambodia has become challenging now as the water level of the Tonle Sap Lake—which is located 2 kilometers from his community—is also severely low, so there are few alternative water sources.
Rehabilitation of Boeung Pearaing Remains in Limbo
Speaking of what can be done next, the president of the community explained that he would seek support in digging out some parts of the lake so that fish can survive.
"Our response will be to dredge up around 10 hectares of the lake, between 0.8 and 1 meter deep, in order to save those fish. The provincial governor already has agreed [in principle] to dig up around 10 hectares of the area in the initial stage," he said.
To prevent future incidents, Moungkol said the whole of Boeung Pearaing would need rehabilitating and so far, as of April 2021, provincial authorities have released a plan to dredge up to 223 hectares as part of a 3-year project. However, there still has not been any official approval yet.
But Moungkol still hoped that the first stage of dredging work of 10 hectares of land will be carried out within 2021 while the 3-year rehabilitation project will be able to begin from 2022.
Siem Reap City Governor Noun Putheara said that the process of lake rehabilitation can only begin when the project gets the greenlight from the Ministry of Mines and Energy, following the completion of an environmental impact study.
"In the process, we can take away the excavated soil, but this is linked to mining law, which requires more environmental impact studies as well as licensing. If the area of the rehabilitation project is small with the surface cover of one or two hectares, the provincial authority can approve. But if it exceeds that, it needs approval from the Ministry of Mines and Energy," Putheara explained.

While Putheara said that a working group tasked with handling the lake's rehabilitation has already been created, there is no scheduled date for the project to be approved.

Additional reporting by Sao Phal Niseiy
Related Articles