Water Shortage Is Being Felt in Several Parts of the Country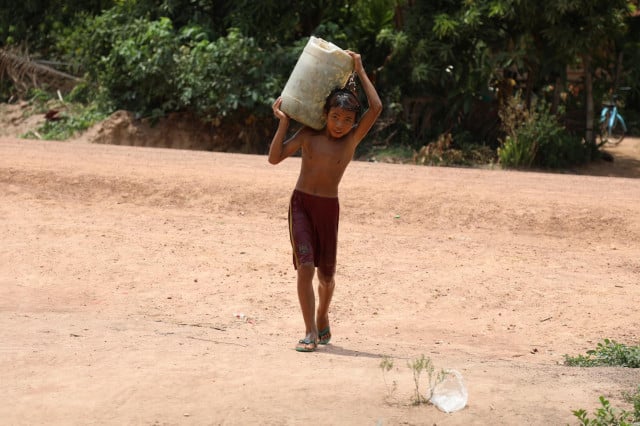 Lay Sopheavatey
May 17, 2020 9:00 AM
People lack drinking water as well as water for crops
PHNOM PENH— Earlier this month, the Ministry of Water Resources and Meteorology warned that the country might soon experience an intense heat wave, which could bring temperature to 41 Celsius in the northwestern parts of the country.
Cambodia is believed to be one of the most vulnerable countries to climate change. Over the last few years, this has translated into extreme weather events going from droughts to floodings.
Last year's low precipitation and the heath of the last few months have led to severe water shortage in some areas. Not only has this affected dry-season rice production and planting, but this has depleted drinking water and household-water supplies in several provinces including Siem Reap Province, Kompong Thom Province and Kompong Chhnang Province.

Shortage of drinking water in parts of Kompong Chhnang Province
This dry season, Vath Mom has had to buy water every day more or less since October. "My home doesn't have a groundwater well and most wells in this area are dry or have no water at all," she said in a phone interview on May 15.
Mom lives in Kompong Leng district's Chranouk commune in Kompong Chhang Province. "There is no clean water here and the water we buy every day is from wells, ponds or the river nearby, which is not clean," she said.
"This water scarcity has been getting severe over the past five years: It is becoming too dry," Mom explained. Water shortage is especially marked from December through May, she said.
"I have to keep buying water and, most importantly, people in the commune are not able to do dry-season rice farming and plant other crops that require a lot of water," Mom added.
According to Chhum Chhean, Chranouk commune chief, there are more than 1,000 families living in the commune but only 30 or so wells to accommodate them. The local authorities are trying to help fix broken wells so that people can have water for daily use, he said.

Siem Reap Province is also seeing water shortage

According to Khim Finan, Banteay Srei district governor in Siem Reap Province, people of the Trapeang Thmor village in Khun Ream commune have also been struggling with water shortage.
"Normal groundwater wells are not usable and some people here are depending on ponds and wells with water pumps, which have been built by donors," he wrote on his Facebook page on May 14. "But this water needs to be filtered and purified." So some people in Trapeang Thmor village, which is one of the poorest villages in the district, he said, "have no choice but to purchase water for daily consumption."

During droughts in previous years, clean-water shortage became so serious that the district authorities had to distribute water to each family, Finan said.
Drought affected crops in the whole Siem Reap Province last year: According to the provincial Department of Agriculture, Forestry and Fisheries, as many as 15,838 hectares of rice fields were affected.
Areas of Kompong Thom Province also face water shortage

Many families of Kompong Svay district in Kompong Thom Province are experiencing severe water shortage.
In a phone interview on May 14, Provincial Governor Sok Lou said that he was greatly concerned by the situation in that district. The Stung Sen river has been running dry due to the El Nino climate-pattern phenomenon, he said. So the rainfall on May 13, which signaled the arrival of the rainy season, came as a relief, he said.
"If there is no rainfall and hot temperature continues to intensify in the province, our first step will be to look for a new source of water to help save our farmers' rice fields," Lou said.



A long-term solution might be to build water reservoir, he said, adding that this would involve a long process as it would require getting this approved by the Cambodian government and relevant institutions.
Related Articles