We Can Cope With $9.5b Debt: Cambodia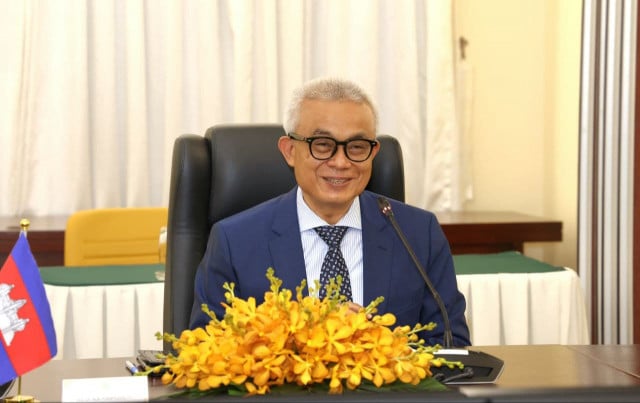 PHNOM PENH – Cambodia says it can manage nearly $9.5 billion in debt, while the state plans to borrow about $1.5 billion from abroad to meet its annual national expenditure of $9.6 billion.
Cambodia has a total public debt of $9,474 million. Of that, $9,464 million is external debt and the rest is domestic.
Of the external debt, more than $6,435 million, about 68 percent, is bilateral. Another $3,028 million, or about 32 percent, is multilateral.
Cambodia owes most to China, $3,880 million, which accounts for 41 percent of external debt. Cambodia owes Japan $946.4 million or 10 percent and South Korea $ 473.2 million or five percent.
The country is indebted $473.2 million or five percent to France, while it owes $662.4 million or 7 percent in historic debts from before 1993. Other bilateral debts are one percent.
For multilateral debt, Cambodia owes the Asian Development Bank $1,892.8 million or 20 percent, the World Bank $851.7 million or nine percent with other multilateral debt of $189.2 million or two percent.
These debts are by the third quarter of 2022.
Although Cambodia owed a lot of foreign debt, Minister of Economy Aun Pornmoniroth said the public debt situation was manageable.
"Those debts remain sustainable and have low risk, despite the Cambodian economy being affected by the spread of the COVID-19 pandemic and other external factors," he said.
Cambodia is able to maintain the sustainability of public debt because the country has a strong public debt management system, Pornmoniroth said.
For 2023, the state plans to borrow about $1.5 billion from abroad to meet annual national expenditures of $9.6 billion. In addition, the state will borrow $200 million from locals through the issuance of state securities.
Hong Vannak, an economic researcher at the Royal Academy of Cambodia, said because Cambodia is a developing country, the loan requirement is essential for key projects.
Before deciding to take the loan, the government must have meticulously calculated the balance between the national revenues and expenses, he said, thus the risk is low.
Creditors must have considered Cambodia with potential development and special conditions before entrusting loans.
"I don't think it is too serious for loans as we have to prioritize the necessary work," he said. "So, the money must be borrowed. I think the balance between current income and macroeconomic management capacity is balanced.
"I think the Cambodian government will have thoroughly thought about the risk."
Vannak added that ​the state also has a reserve for public projects. But he warned that the country could fall into severe debt if the national revenue management system is unclear and corruption is present.
Aun Pornmoniroth said the government is implementing with the utmost rigor and caution the strategic measures set out in the Public Debt Management Strategy 2019-2023.
In particular, the five key principles are aimed at strengthening the efficiency and management of public debt and the management of the public investment.
The government plans to spend up to about $9.6 billion for 2023, mostly on human development. This annual expenditure exceeds the national revenue by more than $2 billion.
In May, PM Hun Sen reaffirmed that Cambodia would not get caught in anyone's debt trap, especially that of China.
He said that his government is cautious about borrowing. The debt ceiling is set at 40 percent of the national gross domestic product, as defined by the law on finance, but public debt only accounts for 23 percent of GDP.
Related Articles